Julia Is That You? What This Artist Does With Makeup Must Be Witchcraft!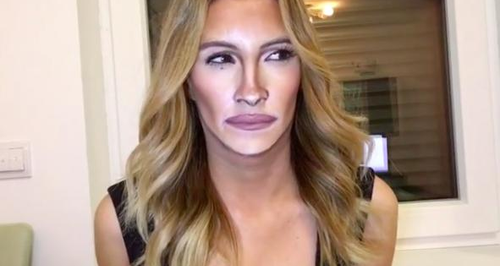 Meet the woman who is questioning everything we know about make up...
We've all wished we could transform ourselves into our favourite stars.
Whether we wanted to have Angelina Jolie's lips, or Cara Delevingne's furrowed brows, we're all on the hunt for the perfect products that could get us one step closer to looking like a Hollywood star.
Make up artist Marina Mamic is taking her skills to new extremes by transforming herself, quite literally, into Julia Roberts with the just the flick of a brush.
Her 25.5 K followers were left stunned by her latest transformation into Julia Roberts in a video posted to her Instagram page.
Of course transitioning into the stunning 'Pretty Woman' star didn't come easy, with the task taking 12 HOURS to complete.
Marina informed fans that she had been busy working away on the look from 8pm at night until 8am in the morning to complete the entire look.
Turns out the gruelling task didn't go unappreciated as Marina noted that THE Julia Roberts has showed her appreciation by sharing the video on her own social media account - although we remain sceptical about this!
She gushed: "I couldn't wait to share this with you! I've received notification that Julia Roberts shared my video and I am tagged in it! I was literary checking 3 times to see if it was true and I was in shock for a while, because I wasn't expecting this to happen and I started jumping up and down screaming! This is really big thing for me, I can't say how happy this makes me."
It's not just the Notting Hill star Marina has created though, she has also taken on the likes of Beyonce and Kim Kardashian too.