Rochelle Humes reveals the emotional talk with her daughter that made her go back to natural hair
28 September 2018, 16:26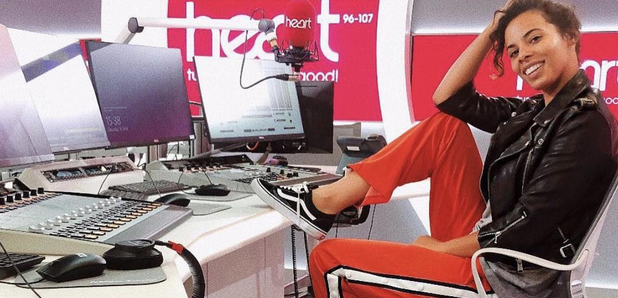 The Heart presenter spoke all things hair and make up on the Outspoken Beauty podcast this week.
Outspoken Beauty is the most honest beauty podcast out there and season two has just kicked off with a chat with Heart's very own presenter, Rochelle Humes.
The 29-year-old mum is known for being one of the most glamorous faces in TV and radio but this week she spoke to Outspoken Beauty host Nicola Bonn about her relationship with her hair and diverse representation in the beauty industry.
She revealed how for years she didn't embrace her natural curls but this all changed when she decided to think about the impact this had on her daughter.
She explained: "My hair is obviously natural very curly. When I was younger I wore it curly a lot and then when I got to the age of about 16 I would have it blow dried every now and then and it became regular."
"From the age of about 17 or 18 I was completely straightening my hair and never wearing it curly. Last year I decided to go back to my roots.
"I don't like my hair my hair's this, my hair's that, my hair's fuzzy and she wanted hair like her best friend. She said "I want princess hair" and I said "you have princess hair what are you talking about!"
"She then started giving me examples like Rapunzel and Elsa so I had to explain to her "mummy has the same hair as you" and she said "no you don't!"
"It made me take a look closer at myself and I realised since she's been born I don't think she'd ever seen me with curly hair, i'd wash it, blow dry it and then straighten it."
Aside from diverse representation in popular culture when it comes to hair, Rochelle also spoke about her experience of a lack of diversity on offer when buying make up.
She spoke about one instance that she went into a shop to buy a particular shade of a make up brand she regularly buys only to be shocked to find the shop had stopped stocking her shade.
She explained: "The lady said to me "no it's not been discontinued but we don't stock it here because we don't sell that many"
"It blew me away. There's a lot of work to be done and I think the high street are doing well but it's crazy that it's still a thing."
Listen to the full interview with Rochelle on the podcast below:
Outspoken Beauty is available to download via outspokenbeauty.co.uk and also via iTunes.