These Sassy Responses To Guys Who Say Girls Wear 'Too Much' Make Up Are AMAZING!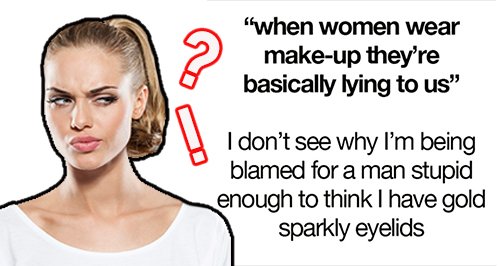 These hilarious responses to guys stupid comments about make up are EVERYTHING you've ever wanted to say!
There's nothing that makes us roll our eyes harder than a stupid comment about the amount of make up we have on or a classic 'I prefer the natural look' comment.
It's hard to bite you're tongue in those situations, especially as Kim K's recent flawless natural look they are referring to probably involves a whole lot of fake lashes, lip plumping and eyebrow tinting!
And anyway, what if we ENJOY experimenting with make up!
These sassy and HILARIOUS posts on social media pretty much sum up EVERYTHING we've wanted to say when faced with a ignorant comment...
When there are just no words...
"you wear too much makeup" "ur lashes are too long" "contour is too strong" "eyebrows too dark" "highlight 2 bright" pic.twitter.com/NQkn3jvMM9

— daryl (@baeryl) November 16, 2015
Because the stupidity is too much...
When they just don't have a clue...
Girls wear makeup to impress men. pic.twitter.com/NjN0v06oqp

— ☾ (@iPeroQueGuapa) August 12, 2015
When they've clearly not heard of waterproof mascara...
guys who say things like "take her to swimming on the first date"
girls: pic.twitter.com/R05zMyR3YL

— babygirl (@3amfeeIings) April 10, 2016
When they say 'But I prefer you without make up'...
And lastly, the ultimate truth...
We've never wanted to scream 'YES GIRLS!' louder.
Because make up is for life, and not just special occasions!