7 DIY Natural Tattoos That Perfectly Bring The Outdoors Onto Your Skin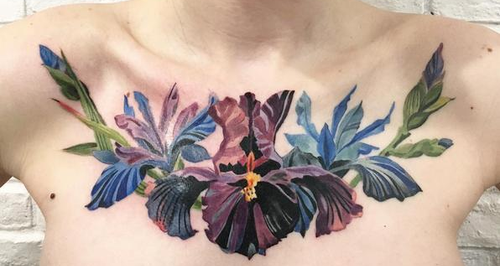 If you love pressing fresh flowers and immortalising them forever, then you're going to adore these naturalistic inkings.
As children few things brought us more pleasure than the magic of pressing fresh flowers and rediscovering them weeks later when they were dry and immortalised forever.
Now a Ukrainian artist named Rita Kit, has discovered an incredible way of copying this technique, but rather than storing the end product in picture frames and on shelves, these creations actually live on the your skin!
So how does she do it?
Well it's pretty simple really. She dips her leaves and flowers in tattoo stencil ink and then presses them directly onto the skin of her clients. Kit then uses this guideline to from the actual tattoo around.
This makes for a rough and ready effect in places, but both artist and her subjects embrace these patches in the end design as part of their natural beginnings. Imperfections are the name of the game.
"I'm a nature lover" she told 'Illusion' magazine and judging from the choice of subjects in her work displayed on her gorgeous Instagram account, that's pretty clear.
"They're like botanical fingerprints on the bodies of other brave nature lovers," she adds.
We can't get enough of the natural feel of the fabulous skin art.
Her inkings are truly one-of-a-kind and the creative and collaborative process that goes into making them extra special and unique.
You can see more of Rita's stunning designs here or contact her via rit.kit.tattoo@gmail.com
We're booking the first flight out to Ukraine.