Karma Chameleon: Bewitching Teen Transforms Herself Into Icons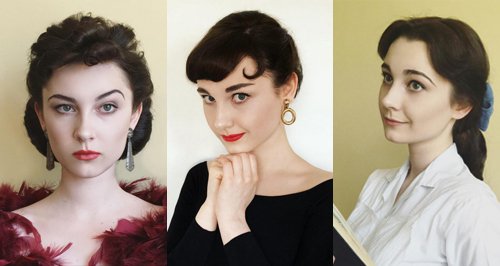 From screen beauty Audrey Hepburn to Belle in 'Beauty and the Beast', from actress Vivien Leigh to author Anne Frank, prepare to be amazed by these phenomenal makeovers.
She may only be 17-years-old, but Annelies van Overbeek from Belgium is one seriously talented makeup artist and an imagination big enough to make all her dreams come true.
Take a look at this amazing Anne Frank tribute.
Who better to inspire and motivate than the Jewish diarist whose family hid in an annex in Amsterdam to try and escape the German occupation of the country during WWII. Anne documented life in the attic and all the struggles she felt as a young girl coming of age in a very unusual situation.
Daisy from The Great Gatsby
We aren't the only ones who get Gatsby fever every time one of our pals decided to plan a fancy dress themed party. But hey, the 1920s lends it's self to trails of pearls, sequin headbands and cute flapper dresses.
Audrey Hepburn
One of Annelies most breathtaking transformations is changing in to the silver screen siren Audrey. She posts a number of pictures channeling different sides of the 'Breakfast at Tiffanies' actress, ranging to relaxing at home, to some of her more famous poses.
Belle from 'Beauty and the Beast'
She's our favourite Disney Princess by a country mile...and we simply can't wait for Emma Watson's portrayal of her in the upcoming live action movie. Annelies pays tribute to this feisty heroine by reincarnating her with a book prop...naturally.
Vivien Leigh
Back in the golden age of Hollywood, certain stars shined particularly bright and one such star was actress Vivien Leigh. The iconic figure was revered for both her fabulous looks and her brilliant acting talent. We find the likeness uncanny!
Elizabeth Bennett from 'Pride and Prejudice'
Annelies once again channels a fictional literary heroine, but this time one of writer Jane Austen's marvellous creations. Lizzie Bennett is famously independent-minded and certainly doesn't like being unoriginal... hmmm ringing any bells?
What a bevy of inspirational ladies. We can't wait to see who Annelies next choice is... watch this space!