Women are smearing toothpaste and egg whites on their boobs to make them bigger
8 August 2018, 16:58 | Updated: 8 August 2018, 17:26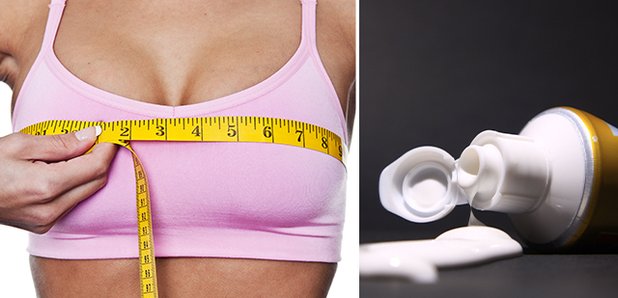 A bizarre new beauty trend is seeing women smearing Vaseline, egg whites and toothpaste on their chests in order to make them 'bigger'.
A gloopy concoction of Vaseline, egg white and toothpaste has been heralded as a quick pick me up for sagging busts... but does it work?
A variety of YouTube videos are encouraging ladies to mix their own home-made masks to slather across their boobs in order to increase their bust size.
The liquids tend to be made from a mixture of toothpaste, flour, grated cucumber and egg whites, and are rumoured to "increase and maximise breast tissue" if you apply it religiously for thirty days.
However, before you ransack your cupboards, a leading plastic surgeon has claimed there is absolutely no logic whatsoever to this beauty regime.

Credit: Getty
Christopher Inglefield, medical director of the London Bridge Plastic Surgery & Aesthetic Clinic, has branded the notion 'fake news'.
He explained to The Sun: "This bizarre advice simply preys on the many women who are unhappy with the size of their breasts and who might resort to bizarre 'miracle fixes' to find a solution to their problem.
"Sadly, like a lot of guidance on the internet, the Vaseline and toothpaste method of breast augmentation is fake news and pure online quackery.
"Your breasts may end up smelling minty fresh, but it's highly unlikely there will be any growth."

Credit: Youtube - MakeupMesha
Also unconvinced by the regime, make-up blogger MakeupMesha decided to give it a go and was less than impressed with the results.
She said: "This does not work. I tried this every night like an idiot for 30 days and had my boyfriend looking at me like 'what is she doing?'
"I would squirt a nice amount [of toothpaste] out and rub it, as the videos here on YouTube say, you rub it into your nipple then cover your breasts in petroleum jelly.
"Then you just go to bed, you leave it overnight to marinate and it's supposed to increase and maximise breast tissue.
"It did not do that at all."