A beginner's guide to healing crystals: How do they work, what are the benefits and the celebrities that use them
3 August 2018, 15:58 | Updated: 16 January 2019, 15:26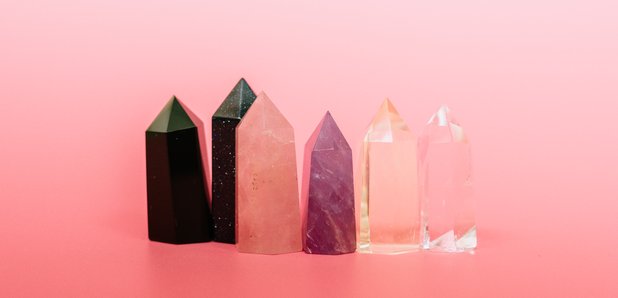 Ever been curious about using crystals to create some calm in your life? Here's your guide to what they do and which celebrities swear by them.
Ever heard people use the term 'healing crystals' and wondered exactly what they are?
Many celebrities including Kate Hudson, Kim Kardashian and Adele use the natural energy of crystals for a variety of different reasons including healing.
If you're a budding crystal healer or a beginner here are all your questions answered...
What are crystals?
Crystals are naturally formed from minerals in the earth (although be careful, as you can purchase some man made crystals).
They can be formed in a variety of shapes and sizes such as geodes, pebbles, rocks and are normally shaped or polished before being used.
You can buy crystals for healing in many independent mind, body and soul book shops across the country.
What is crystal healing?
It is said crystals channel the earth's energy in different ways, depending on the stone, and for hundreds of years humans have been harnessing this energy for healing powers.
Some may genuinely believe they can heal in the literal sense, but many use crystals for spiritual healing in relation to meditation and chakras (the 7 energy points of the body).
How can crystals benefit me?
People use crystals for a variety of reasons depending on culture and beliefs but there are some common reasons some might turn to crystal healing for help.
- Insomnia
- Heartbreak
- Anxiety
- Stress
- Self love
The energy of crystals can also be harnessed in different ways. Some may use them in meditation by placing them on a certain chakra to help them realign their energy.
Some may simply carry them around in their pocket or as jewellery. Many choose to place them around the house to encourage good energy through their home and sometimes people even use them in elixirs.
What crystals should I start with as a beginner?
There are no specific 'beginner' crystals as it is all down to personal use, but there are crystals that serve more common purposes than others.
Below are crystals recommended by the book 'The Little Pocket Book Of Crystal Tips and Cures' by Philip Permutt for the problems mentioned earlier in the article.
- Insomnia - Place lapis lazuli under your pillow.
- Heartbreak - Carry morganite to heal your sense of loss.
- Anxiety - Hold green calcite when you feel panicked.
- Stress - Wear jade to bring you inner peace.
- Self love - Place carnelian around your home to boost self esteem.
Which celebs use crystals?
Victoria Beckham has admitted she carried crystals around with her and has even incorporated them into her latest VB collection.
Kate Hudson even stores some of her facial products on crystals to infuse them with positive energy before she puts them on her face.