Blue Monday Doesn't Look So Depressing With These Delicious Bargains!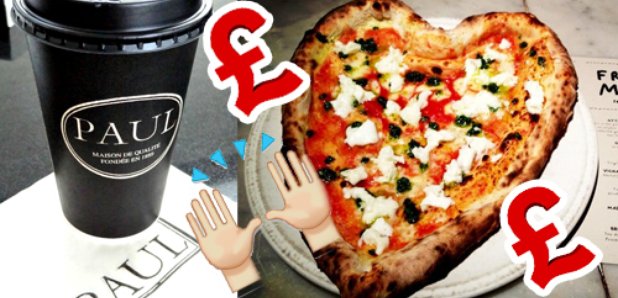 Make the most 'depressing day of the year' work for you with these huge reductions on food and drink.
January can always be a glum time of year.
It's the month we find ourselves pinching the pennies, embarking on gruelling (and mostly unrealistic) diets and settling back into the day-to-day of work following a busy Christmas period.
While we always assumed that January was miserable, apparently the most depressing day of the year is Monday January 16th, and its known as Blue Monday.
So what is Blue Monday?
Life coach Cliff Arnal claims that factors such as the weather, debt, the amount of time elapsed since Christmas AND the realisation that we're failing miserably at our New Year's Resolutions are all contributions to feeling unmotivated around this time of year.
Luckily for us, there is NO scientific explanation behind this theory, and it's a perfect marketing opportunity for big names to give even BIGGER discounts to cheer us up.
We've rounded up some of the best savings you'll see around this Monday.
Yo Sushi!
Until the 27th January, Britain's best-loved Japanese food celebration is serving a line-up of 48 furiously flavoursome, fresh street food and sushi dishes at just £2.80 each.
PAUL
At a time where people need cheering up, PAUL will be spreading kindness in the form of single or double espressos for just £1 to lift those moods from morning through to evening. Available on takeaway orders only on Blue Monday (16th January 2017).
Franco Manca
Franco Manca is offering a pizza-shaped present for all customers celebrating their birthday in January, by giving you a free main. You'll need to provide valid ID. The January Birthday Blues offer is available on Monday, 16th January across all Franco Manca sites.
Zizzi's
On Monday 16th January, all customers who snap a Zizzi foodie picture and post on their Instagram will receive a free dessert *in restaurants across the UK.
To receive a free dessert, all customers need to do is snap a photo of their meal and include @WeAreZizzi and #ZizziBlueMonday and show off their creative skills to the waiter, who will then provide a delicious dessert, absolutely free.
This offer is only valid for one person, so make sure the rest of the table share their foodie picture on Instagram to get their free dessert too!
Basuba Eathai
Sign up to the restaurant chain's 99p event to enjoy one of 9 dishes for only 99p, specially chosen for you! You'll need to be quick and register on the website to get the deal, and it's subject to availability on the day. So first come first served!