Blogger slams fans who criticised her 'embarrassingly small' engagement ring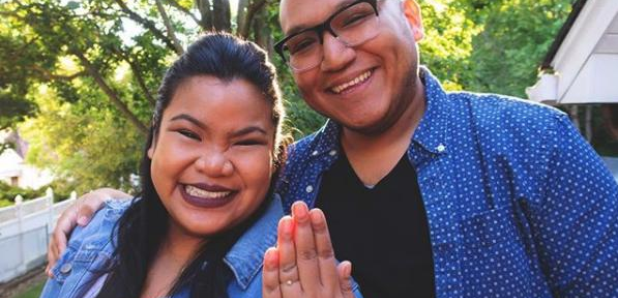 Food blogger Jen Phanomrat was shocked by the response to her happy news.
Food blogger Jen Phanomrat has a huge following on Instagram, so it was only natural that when the happiest day of her life happened that she share it online with her fans.
Her partner of nine years Leo Samanmu popped the question and like many newly engaged couples, the pair beamed as they posed with the ring on a clearly delighted Jen.
But the couple certainly didn't expect the back lash they received in the comments section over the size of Jen's ring.
Many of her followers were quick to put a downer on Jen's happy day by criticising Leo's choice of ring, particularly the size of it and left mean spirited comments such as "if my guy ever got me a ring like that I'd smack him into next year. Just sayin".
Another cynical commenter said: "So are we all just going to pretend like that ring isn't microscopically small?"
But of course, with the bad comments also came the good as many showed their support for Jen and congratulated her on her incredible news.
Jen has now turned the comments off on the particular image and told Yahoo that the level of abuse she received was unexpected and she was particularly disheartened that the majority of hate came from fellow women.
She said: What Leo and I do want those people to know is that we mostly choose experiences over material things, and we encourage others to think about how they measure value in life."
"He knew exactly what type of ring I'd love.
"A delicate, hammered gold ring with a tiny pearl. I don't usually wear any jewellery, but when I do, it's simple and minimal."
She added that as a cooking show host, having a large diamond wouldn't be practical for her messy work.
Jen explained: "What mattered to me the most was the tiny detail on the inside of the ring.
"He asked the ring maker to inscribe the initials of our nicknames for each other. I swear I thought I was floating in the air when he pointed it out. My heart smiles every time I see it."