A Cafe For Breastfeeding Mums Is FINALLY Opening And It's GENIUS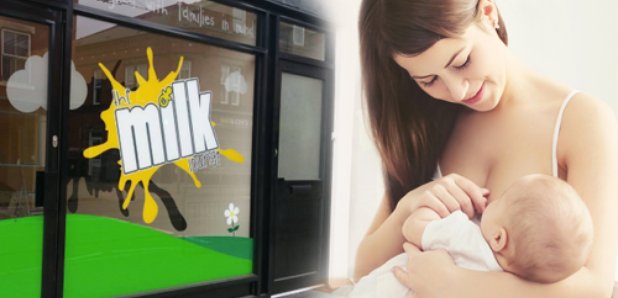 The Milk Lounge is a cafe especially designed for parents and grandparents wanting to feed their children in a comfortable environment.
Between the awkward stares, shifty looks, and wrestling to keep a blanket over your baby's head for fear of "offending" anyone it can all be a bit too much.
What's more, stories about women who have been forced to breastfeed in their car, or told to leave restaurants altogether if they want to nurse their child, are becoming all too common.
A family friendly cafe for nursing mothers and bottle feeding parents in general has been celebrated. Feeding babies while out and about can be tricky and breastfeeding in public can be a difficult experience, especially for first-time mothers.
Now parents in Bestow, Nottinghamshire, won't have to worry about the sad stigma of public breastfeeding any longer, as a new cafe is about to open in a bid to give mother's peace of mind and it welcomes father's who want to feed their children too.
The cafe is designed with turning spaces to accommodate prams, a private feeding room for expressing mums, a "breastfeeding peer" to offer advice for new mums and helpful facilities such as those wanting to warm up bottles.
There are changing rooms, a toddler's area with a small play space, a welcome meeting for mum or dad groups, formula in stock to buy if you've run out and the ability to buy feeding aprons.
It's the brainchild of 23-year-old Charlotte Purdie, who came up with the idea after feeling uncomfortable feeding her own son in coffee shops.
"I became a mum in March 2015 and have had my difficulties finding a clean, comfortable space to feed and change my little boy," she writes on her website.
Turns out the cafe is so much more than a space for breastfeeding, as the venue focuses on all aspects of feeding.
She told Metro.co.uk: "We cater for breast and bottle and we also do baby-led weaning combos with fresh purees."
Health-conscious mothers will be delighted to know that the cafe hosts vegan, dairy-free and gluten-free goodies for them to eat while they nurse, plus the cafe offer a daily programme of activities including baby massage, baby ballet and mother and baby pilates!
Now this is somewhere we would love to try!