Bride Has No Bridesmaids So Asks Her Bros To Have A Pre Wedding Photoshoot!
23 May 2017, 15:21 | Updated: 23 August 2018, 16:58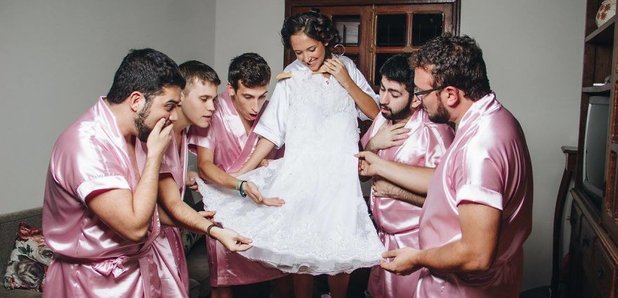 Rebecca Abrantes didn't let having no bridesmaids stop her having a pre-wedding pamper with her friends!
Rebecca Abrantes is a 24-year-old newly wed who go married in her native Brazil last week.
Since her big day her wedding has been making headlines across social media and you'd never guess why!
Most brides have a team of girls ready to be their bridesmaids and right hand lady on their big day. Rebecca didn't have any bridesmaids as all of her closest friends are guys, and thankfully that didn't stop her from getting the wedding prep she deserved.
In an interview with boredpanda.com she said: "I came up with the idea one week before the wedding. I was looking into some "making of" pictures of brides with their gang of girls, all in robes, laughing, drinking champagne and all, and I got a bit sad because I wouldn't be able to do anything like that".
She studies computer engineering and is one of only four women on a course of sixty students so has some great friends that are guys and they rallied around her to give the bride-to-be a night to remember.
Scroll through some of the images below and we think you'll agree, they're priceless!
She said: ""The photoshoot was super fun. Everyone was taking shots of cheap booze and sometimes we were laughing so much that we had to take some time to recover and go on with the photos."
"I am very happy with the photos. Sometimes I look at then and find myself laughing like crazy. But I never imagined this would become so viral".
Rebecca what an incredible group of friends you have!