Outrageous list of wedding day demands goes viral... including 'no talking to the bride'
20 September 2018, 11:50 | Updated: 23 October 2018, 13:12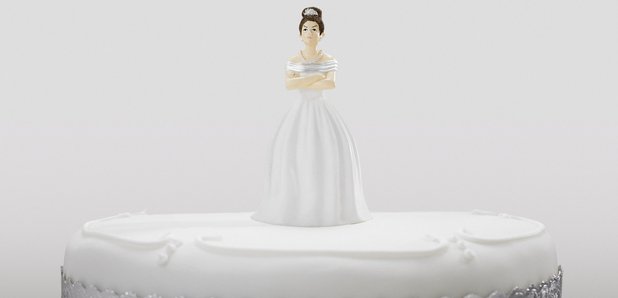 People were shocked when this bride's list of wedding day demands appeared online.
There have been lots of bridezilla's in the news lately including the bride who had a whopping five weddings and the bride who cancelled her wedding after the guests refused to pay.
The latest shocking story of a bride to be has emerged on Reddit after a guest shared an email of demands and rules sent out by the wedding planned to all who were attending.
The list of 'rules and regulations' laid out by the bride and the wedding planner are pretty far fetched and even go as far as demanding that the guests do not speak to the bride.
Here's the full list:
'Please arrive 15-30 minutes early
Please DO NOT wear white, cream or ivory
Please do not wear anything other than a basic bob or a ponytail
Please do not fave a full face of makeup
Do not record during the seramony
Do not check in on FB until instructed
Use [hashtag] when posting all pictures
DO NOT TALK TO THE BRIDE AT ALL
Everyone will toast with Rémy.
No acceptance Lastly must come with a gift 75$ or more or you want be admited in'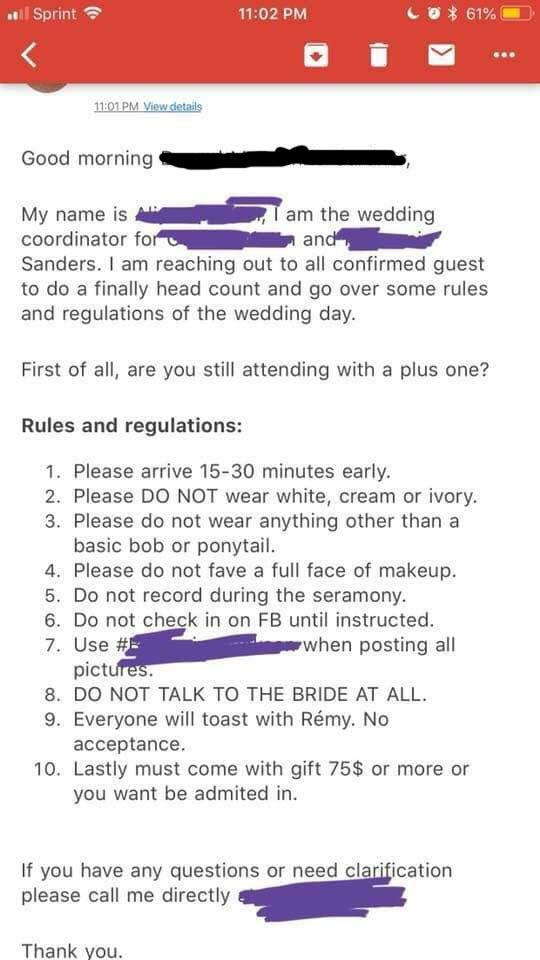 Picture: Reddit
Aside from the list being riddled with spelling mistakes, people couldn't quite believe the outrageous rules that guests at the wedding must adhere to.
The crazy list was shared on Reddit to gauge opinions from other users, and some gave pretty strong thoughts on the matter.
One user called 'ASomewhatAmbiguous' said: 'What an excellent list of reasons to not go' while another jokingly suggested that all the guests should turn up 'naked with ponytails'.
What do you think of this bride's demanding list of rules?