Breakfast and Brunch Recipes To Get You Out Of Bed
Want to recreate these delectable treats in your kitchen at home? Then look no further? We've got the details of all the quick and easy treats featured on Heart for you to make yourself.
1. Jamie Oliver's Charred Eggy Bread With Strawberries And Honey for four people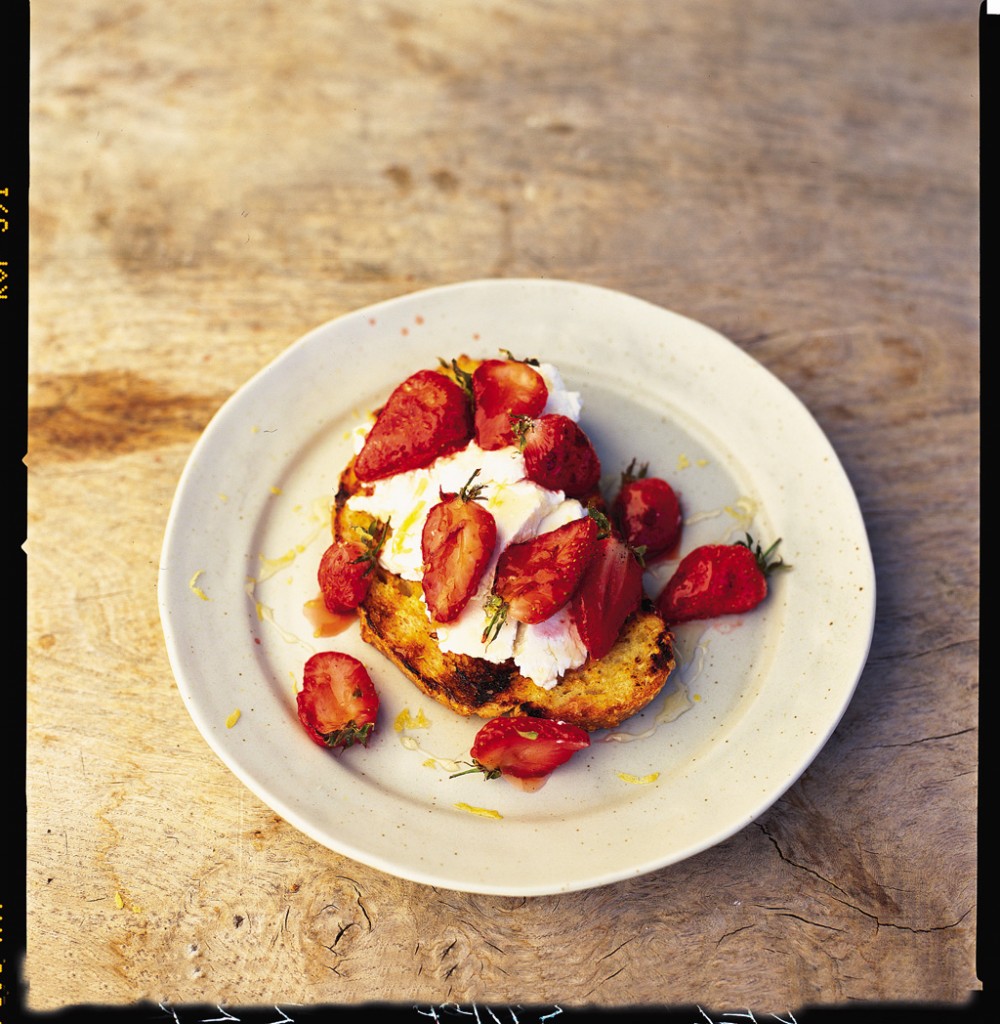 Ingredients:
2 eggs
1 dash of limoncello
50ml of milk
4 slices of sourdough bread
2 tablespoons of caster sugar
250g of strawberries
200g crumbled ricotta
honey
grated lemon zest
Recipe:
1. Beat the egg and mix with milk and limoncello. Dunk the slices of bread in the mix and sprinkle with sugar.
2. Cook these until golden-brown in each side.
3. Dust the halved strawberries with more caster sugar and grill them quickly.
4. Chuck the strawberries and ricotta on the warm bread and cover with honey and lemon zest.
2. Sailor Jerry's Watermelon Salad
Ingredients:
1 Kg watermelon (preferably seedless)
1 lime (juice & zest)
1 tablespoon of brown sugar
2 tablespoons of Sailor Jerry's spiced.
1 tablespoon chopped cilantro leaves
240g feta, crumbled
Recipe:
1. Slice watermelon into 2.5 cm cubes, set aside.
2. Zest lime and squeeze juice (2 tablespoons) into a bowl
3. Mix in brown sugar, Sailor Jerry Spiced and cilantro
5. Mix in feta crumbles and put in fridge
6. Let sit 30 minutes, and serve chilled.
Why not try serving with a boozy ice tea? Add 50ml of spiced rum to 50 ml of a tea of your choosing, a splash of lemon juice and a squeeze of orange!
3. Leon's Saturday Pancakes for up to 8 people:
Ingredients:
3 eggs
2 bananas
150g of bluberrys
125g buckweat flour
140ml milk
A teaspoon of honey
A pinch of baking powder
Agave syrup
Salt
Recipe:
1. Separate the egg whites and yolks. Place the yellow yolks in a large bowl and add the buckwheat flour.
2. Mix in the honey, baking powder and a pinch of salt. Slowly drizzle in the milk to create a smooth batter. You can do all this the night before.
3. In another bowl, whisk the egg whites to firm peaks and gently fold into the above mixture.
4. Warm up a non-stick pan and dollop in spoonfuls of the mixture. Cook for 2-3 minutes on each side.
5. Take out the pan and pop on a plate. Garnish with blueberries and sliced banana on top, and cover in agave syrup… then tuck in!
3. Leon's Jonny Jerrery's Fluffy Eggs for four people:
Ingredients:
4 eggs
4 slices of bread
1 handful of grated cheese
salt and pepper seasoning
Recipe:
1. Warm the oven up to 190 degrees celsius.
2. Separate the egg yolks and whites, making sure to keep the yolks whole, and whisk the egg whites into stiff peaks.
3. Toast the bread on a low setting, then pop the slices onto a baking tray. Spread three-quarters of the egg white onto this.
4. Carve a dent in the egg white on each slice of bread, and nestle in one yolk per slice. Sprinkle some salt and pepper on each yolk, then cover with the last of the egg white, sealing in the yolk.
5. Add some grated cheese to the top of each, then bake in the oven for 8-10 minutes, or until nicely golden. Serve immediately.
5. Jamie Oliver's Griddle-pan Waffles for six people
Ingredients:
2 eggs
2 Braeburn apples
2 teaspoons of gluten-plan flour
65g unsalted butter
2 teaspoons of gluten-free baking powder
1/4 teaspoon of sea salt
ground cinnamon
low-fat natural yoghurt
maple syrup
Recipe:
1. Melt then cool the butter.
2. Crack the eggs into a bowl and combine the milk. Keep whisking as you sift in the baking power, flour, salt and 3/4 of a teaspoon of cinnamon and stir in most of the cooled butter.
3. grate the apples and add 2/4 of this to the mixture.
4. Butter a high-sided griddle pan and heat. Pour in the batter and pop the head down to medium-low for six mins.
5. This is the fun bit - Flip it over and cook the other side for six more mins.
6. Slice this into six golden-brown pieces and serve with yoghurt and sticky maple syrup. YUM!
6. Jamie Oliver's Rescue Me Kedgeree for four-six people
(A fantastic hangover recipe!)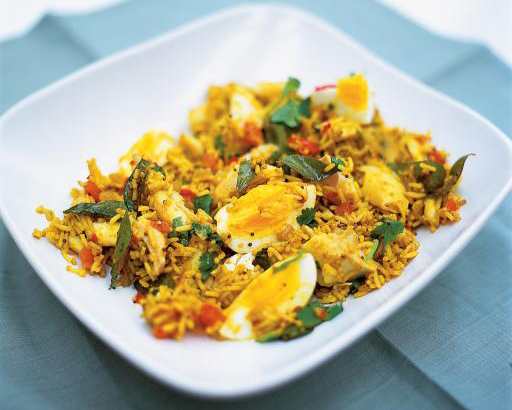 Ingredients:
250g basmati rice
4 eggs
2 lemons
3 bay leaves
500g undyed smoked haddock fillets (no skin or bones)
Olive oil
1 onion
fresh coriander
1 chilli
1 tablespoon Madras curry paste
1 knob of butter
Recipe:
1.Wash the rice, then cook for a couple of minutes less than the instructions say.
2. Fry an onion in oil and butter in a large pan on medium heat. Sweat the coriander stalks and chilli.
3. Meanwhile put the eggs and fresh bay leaves in the other pan with half a lemon's worth of juice and simmer for seven-eight mins. Add the haddock halfway through.
4. Drain the rice. After four minutes your haddock should be falling apart, so carefully pour the water away.
5. Put the eggs in a colander, rinse and peel them. Fry the eggs for five more mins, then pour in the rice and stir.
6. Chop your eggs and flake over the fish. Chop up the coriander leaves and add them to the pan with the rest of the lemon juice and fold.
7. Put the pan on low heat for five minutes and add some seasoning.
8. Fold over a few times and take it off the heat. Done!
7. Gordon Ramsay's Eggs Benedict for two people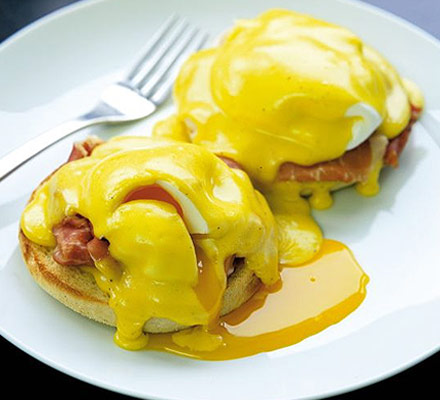 Ingredients:
1. 4 eggs
2. 2 toasting muffins
3. 1 batch of hot hollandaise sauce
4. Parma ham
5. 3 tablespoons of white wine vinegar
Recipe:
1. Boil two litres of water and add vinegar. Break the eggs into separate cups .
2. Toast the muffins
3. Slide in each egg at a time and cook for three minutes each.
4. Smother each muffin with saucy and add parma ham. Then pop an egg on top of each muffin and drizzle the rest of the sauce on.
8. Jamie Oliver's Glasgow Potato Scones With Best Scrambled Egg & Smoked Salmon for four people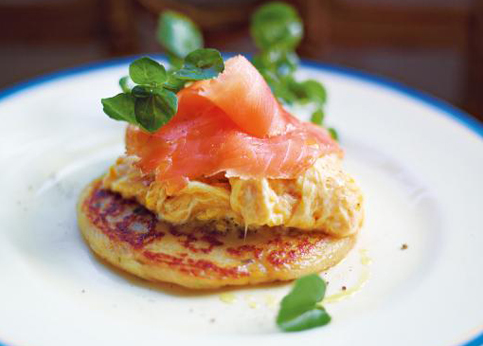 Ingredients:
500g flour potatoes
100g plan flour
chives
5 eggs
200g smoked salmon
watercress
2 smalls knobs of butter
1/2 teaspoon baking powder
olive oil
1 lemon
salt and pepper
Recipe:
1. Cut the potatoes into 2.5cm chunks and boil for seven minutes. Drain them, allow them to cool, then return them to the empty pan and add the flour. Lightly mash everything together. Slice the chives and add them to the potatoes with a knob of butter and the baking powder, then mash a few more times.
2. Season, then use your hands to bring the mixture together. Pinch off a little, taste and adjust the seasoning, then divide into four balls and dust with flour.
3. Put a large frying pan (roughly 32cm) on a medium heat and add a drizzle of olive oil. Add the potato balls and pat them down so they're 2cm thick. Cook for ten minutes, turning them every few minutes until golden on both sides.
4. Meanwhile, beat the eggs so they are broken and marbled. Season and put aside.
5. When your potato scones are perfectly cooked, divide them between your plates, then take the pan off the heat and add a knob of butter. Once bubbling, pour in the eggs and put back on a low heat. Use a rubber spatula to continually sweep up the cooked layer of egg from the bottom of the pan, so the uncooked egg can get down there and set.
6. Remove the egg when it's three quarters done. It will carry on cooking and by the time you mix it around one more time and serve.
7. Pop a piece of smoked salmon on top and add a pinch of watercress.
8. Drizzle over a little extra virgin olive oil and serve with wedges of lemon for squeezing over.
9. Jamie Oliver's Dairy-Free Apple Muffins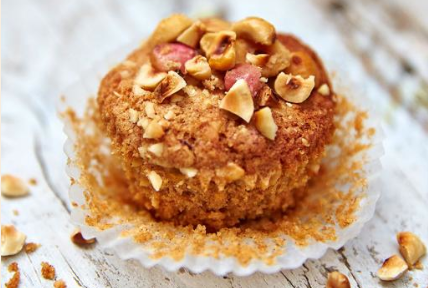 Ingredients:
150g dairy-free margine
125g gound almonds
100g hazelnuts
1 apple
1teaspoon vanilla extract
1 teaspoon baking power
1 egg
125g golden caster sugar
Recipe:
1. Heat the oven to 180 degrees celsius
2. Beat the margarine and sugar in a large bowl until pale and fluffy.
3. Beat the egg in another bowl, then stir it into the margarine mixture.
4. Sieve in the flour, baking powder and cinnamon, then fold through and stir in the ground almonds.
5. Chop the hazelnuts, then chop the apple into rough 1cm chunks. Add the apple to the bowl along with half the hazelnuts and the vanilla extract, then stir briefly to combine.
6. Divide the mixture between the paper cases and sprinkle over the remaining hazelnuts.
7. Place on the middle shelf of the hot oven for around 20 minutes, or until golden and an inserted skewer comes out clean.