Calls for early baby gender reveal tests to be banned
17 September 2018, 17:12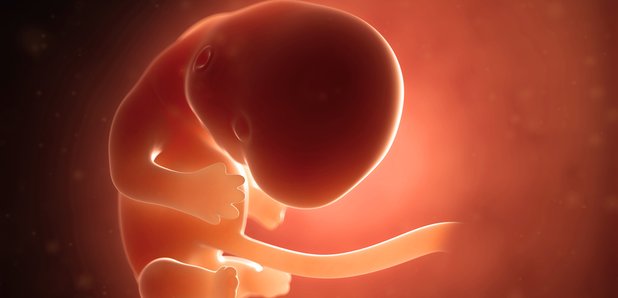 Labour MP airs concerns it could lead to terminations based solely on gender.
Tests that reveal a baby's gender before its born could be banned under new rules drawn up by MPs.
Naz Shah, shadow minister for women and equalities, has voiced concerns the tests could allow expectant mothers and fathers from cultures that value boys to terminate girls.
The NIPT (non-invasive pre-natal test) is used to detect genetic conditions, including Down's syndrome and has been offered by the NHS as part of its antenatal screening process.
Ms. Shah, MP for Bradford East, says parents could adopt methods such as NIPT "to live up to expectations of family members", putting unborn babies at risk of termination based on their gender.
Speaking to the BBC's Victoria Derbyshire programme she said: "NIPT screenings should be used for their intended purpose, to screen for serious conditions such as Down's syndrome.
"The government needs to look into this exploitative practice and enforce appropriate restrictions."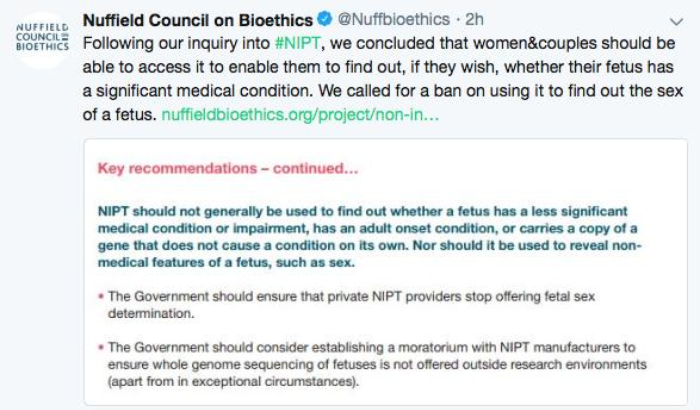 Nuffield Council for Bioethics posted their findings on their Twitter page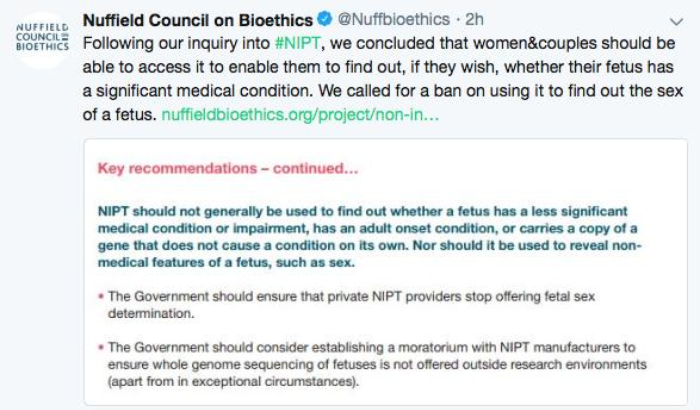 Parents can find out the sex of their baby at the mid-pregnancy scan, which usually takes place between 16 and 20 weeks.
Using NIPT, the sex can be determined from nine to 10 weeks of pregnancy.
A report by Nuffield Council on Bioethics discovered several websites that offer baby gender tests, the average cost of which was £170.
The research outfit concluded that "women&couples should be able to access it to enable them to find out, if they wish, whether their fetus has a significant medical condition."
Adding: "We called for a ban on using it to find out the sex of a foetus."
Abort a pregnancy because of the sex of a foetus is against the law, however there are some exemptions and Nuffield Council on Bioethics stated that the laws around it are not "clear-cut".