You Can Now Go Through Central London In A Hot Tub Thanks To HotTugs!
5 July 2017, 12:47 | Updated: 5 July 2017, 14:20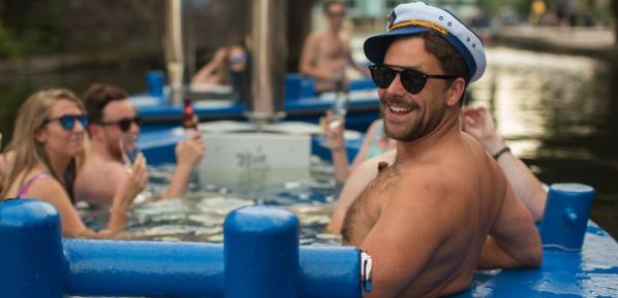 Head down Regent's Canal in a hot tub boat this summer because why not?
If it has ever been a dream of yours to go down Regent's Canal in a hot tub then all your wishes are about to come true!
We wouldn't be surprised if you're reading this with about a million questions stacking up in your head such as how and why?
Let us explain.
HutTugs are coming to London and will be letting you hop in and have a relaxing soak in a hot tub as you chug along Regent's Canal.
They describe themselves as "the world's first wood-fired floating hot tubs" and each ride takes you along the canal for 90 minutes, just enough time to get nice and pruney!
Opening on 12th July the HotTugs will transport riders from Islington and along the famous canal through the city.
It might be new to the UK but this concept isn't new in Europe as this is a trend that has been sweeping along the canals of Rotterdam in the Netherlands for a while now.
Stuart Thompson and Jack Clegg are the brains behind bringing this wacky idea to London and told the Evening Standard: "I just thought, what a fantastic thing for London. It's taken a while for this crazy, mad experience to get it here – finding the right site and that – but we're almost there."
They also hope that the tugs will be open all year round and not just in the summer months thanks to their on board wood burning stoves which keeps the water a toasty 38C.
Londoners, along with their swimming stuff and a towel, can bring alcohol onto the HotTugs with them as long as they aren't the driver.
With the UK full of canals, we wonder whether the HotTugs will branch out of London soon and head to the other parts of the country filled with waterways including Birmigham and the Norfolk Broads?
Would you jump in a HotTug?