Eat, Pray, Love! Why Everyone NEEDS To Go On Holiday Alone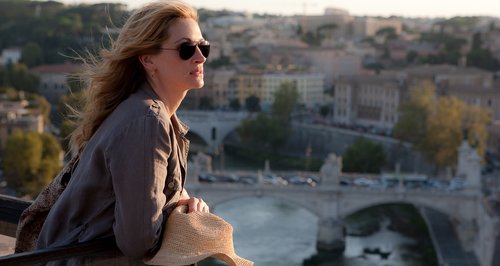 The idea of going on holiday alone can be a scary thought but you'd be surprised what you can discover about yourself and the world without any distractions. But if you're not quite ready to be Christopher Columbus, why not try these locations only four hours from home?
Going through a break-up? Stressed out at work? Or perhaps you simply need some "me" time.
The stresses of work can be frustrating but now more than ever there are a number of destinations looking to cater to busy career women who need some rest and recreation.
We've discovered the must-see locations to collect your thoughts, thrill your eyes, tantalise your tastebuds and open up your heart.
From little fishing towns steeped in history, to rural retreats perfect for unwinding and collecting your thoughts, we think it's time you had a solo adventure!
Eat In Marrakesh, Morocco.
It's hard to believe that in three hours, you can leave the drizzly British Isles and be in the heart of one of Africa's most vibrant destinations.
Bordering the Atlantic Ocean and the Mediterranean Sea; Morocco's Berber, Arabic and European influences means it has one of the most diversified cuisines in the world.
Spices fill the souks in Marrakesh Picture: iStock
Bright colours and and strong smells fill the streets of Marrakesh, mainly due to the spices which are are extensivley used in the region's delicious dishes. You'll see the decoratively bright powders stacked high as you navigate your way through the labyrinth of souks located in Medina - the oldest part of the city.
Ingredients such as Saffron, Mint, Olive, Oranges and Lemons are home-grown locally, and make up some of the country's traditional dishes.

Beef is the meat traditionally used in Tagine. Picture: iStock
If you're looking for slow-cooked Beef that melts in your mouth, then Tagine is a must-have! Cooked in a ceramic pot over hot charcoal, the meat is stewed with a range of vegetables for a tasty dish to thrill your tastebuds.
Travelling alone is the perfect time to pick up a new skill, so why not book yourself onto a cooking lesson whilst there? You'll know exactly what to do with the spices when you return from your travels.
Pray In Antalya, Turkey.
While we don't necessarily mean pray in the literal sense; a bit of relaxation and meditation can be just as good for the soul and that seems to be the primary focus at Gloria Serenity Resort, Belek.
A quick flight with Monarch Airlines costs from as little as £39 one-way and after a direct 4 hour journey you'll find yourself in the Turkish province town of Antyala, a popular tourist resort where the hotel is based.
Set across a sprawling estate overlooking the Mediterranean Sea this luxurious hotel is for the traveller looking for a little R&R.
A rustic shack along the pier of the resort's private beach, serves up a variety of classic cocktails with a breathtaking view of the sandy shores of Belek thrown in for extra measure.
Picture: Gloria Serenity Hotel
With 16km of white sand which slopes down towards the turquoise waters of the Mediterranean sea, there's no arguing that Belek has one of the finest beaches within the Turkish coast.
Collect your thoughts with a cup of authentic Turkish tea, before heading over to the Serenity Spa where the smell of sandal wood fills air in their luxury treatment rooms which include traditional Turkish Baths. The steam within the bath's beautifully tiled rooms open up your pores and your lungs, while a full body scrub and massage during the Hamamm treatment will not only help you to unwind, but leaves your skin silky smooth.
Termasssos is an ancient city built at the top of the Taurus Mountains. Picture: iStock.
The hotel may be be sleek and modern, but outside the resort walls lies a town steeped in history ready for the solo traveller to explore. Termassos, an ancient city built at an altitude of more than 1000 meters on the south west side of the Taurus Mountains, is just over an hour's drive while the ruins at the Temple of Apollo tells the story of ancient conquers.
Love (yourself) at La Suite West Hotel, London.
It's no secret before you can love anyone else, you need to learn how to love yourself first. So why not strike up a healthy relationship with your body by booking yourself in for a detox weekend?
This swanky hotel is the perfect respite for busy working professionals, looking to get away from the hustle and bustle of the city.
Located on a secluded terrace in the heart of Bayswater, the modern digs are part of the women's business travel network, maiden-voyage, which means if you're travelling solo you can be rest assured it's among the safest places for girls going solo.
The sleek modern interiors, which consist of dark oak wood furnishings, dimly lit lighting and asian infusions make it the perfect setting for switching off and being at one with your mind and body.
Head over to the Nosh Garden Kitchen, just one of the hotel's broad wellness offerings that serve up a delicious menu that allows you to indulge in vegetarian and vegan cuisine. What's more, you can clean your body from the inside out with Nosh's range of healthy pressed detox juices.
If you don't fancy leaving your room, In-Room Spa Treatments are the best way to unwind at the click of a button.
The minimalist and glamorous ambiance of this suite hotel is unparalleled views and is sure to leave you feeling zen.
To find out more, visit LaSuiteWest.com