This Is What Your Quality Street Could Have Looked Like This Christmas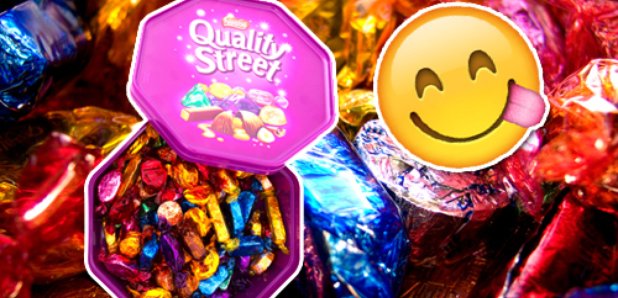 A Jaffa chocolate sweet and Almond toffees have been revealed as plans for the original tin over 80 years ago.
It doesn't matter how much you eat on Christmas Day, you can always find room to stomach a bunch of chocolates from the Quality Street tin.
We all have our favourite too, whether it's the chocolate triangle, the fudge finger or toffee penny, but unseen illustrations from the 1930's show a very different looking selection of sweets on offer.
Turns out the famed assortment of chocolates looked very different from the ones we have today, and newly released pictures from Nestlé show the original sketches from Lord Mackintosh himself explaining exactly how he wanted them to look.
Most people can resonate with the iconic design seen on early Quality Street tins (Instagram/Kaye Jemmeson)
It all started with eight bullet points titled 'Plan for Quality Street', sent on December 12 1935.
This plan outlined everything from the shape and design of the tin to advertising. From there, Mackintosh began sketching away designs for 18 different chocolates to be included in the selection.
Just five of those are still in the tin and have become our favourites today, such as Toffee Penny, Toffee Finger, Green Triangle, Caramel Swirl and The Purple One.
Some of the iconic designs featured on the tins over the years (Instagram/Mackintoshqualitystreet)
However, original sketches show some surprising additions including a Jaffa Chocolate Toffee, which would have consisted of Sultanas mixed with toffee and covered with orange milk chocolate, as well as Almond Toffee and Chocolate Toffee Crispets made with crispy cereal, toffee and chocolate.
The blue prints also had clear instructions from Lord Mackintosh to make the chocolates a "sensory feast" with exciting wrappers and a tin that we would want to use over and over again.
The ORIGINAL Quality Street chocolate line-up from the 1930's:
Chocolate Creme Toffee Brazils (The Purple One) – Inside the moulded chocolate is a Brazil nut embedded in a lovely rich toffee which is as soft as a fondant.

Cafe Au Lait Carameline – Similar in character to the "Cup" but the Toffee centre is blended with milk and coffee.

Toffee Cup (Now called the Caramel Swirl) – A moulded chocolate with an "almost liquid" toffee centre – "Toffee Cup" truly describes it.

Noisette Pate (The Green Triangle) – A layer of finely ground nuts in a chocolate paste and moulded with a layer of chocolate of exceptional smoothness.

Milk Chocolate Whirl – Made with a delicious milk chocolate paste.

Jaffa Chocolate Toffee – A unique combination of Sultanas mixed with toffee and covered with orange milk chocolate.

Quality Street Toffee – A plain toffee from a new recipe; very rich in cream.

Almond Toffee – The same delicious toffee combines with finely chopped almonds.

Chocolate Toffee Crispets – A combination of a crisp cereal and toffee coated with chocolate.

Valencia Cracknel – The choicest of almonds in the usual Cracknel casing.

Quality Street Extra Butter Toffee (Toffee Penny) – Made in the same way as Dessert. The name aptly describes it.

Quality Street Almond Extra Butter Toffee – The same toffee with an almond on top.

Quality Street "Harrogate" Toffee – The new toffee recipe with distinctive lemon and ginger flavour.

Chocolate Butter Toffee – The same recipe as "Quality Street" Extra Butter Toffee chocolate coated.

Chocolate Butter Toffee Walnut – Again the same toffee but with a walnut added and the combination covered with superfine chocolate.

Quality Street Cream Caramel – A new, rich and creamy soft eating caramel.

Quality Street Vanilla Toffee – Another special toffee recipe with a delicate vanilla flavour.

Golden Ingots (Now called the Toffee Finger) – Another variety of Chocolate Toffee "fingers"