Here Is Where You Can Watch Your Favourite Films This Christmas
5 December 2017, 16:47 | Updated: 5 December 2017, 16:59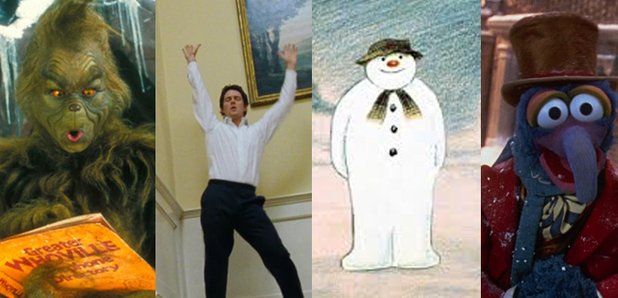 Wondering where you can watch your favourite Christmas films this year? Look no further!
When it gets to December it becomes a mad rush to cram ALL your favourite festive films in before the 25th. Plus, who has DVD's or even a DVD player these days? Streaming services are definitely to blame but thankfully they've upped their Christmas game this year.
So to make things easier for you we've compiled a list of Christmas movie greats and which streaming services are offering them this December - you're welcome!
The Holiday
It's already time for Mr Napkin head again. Jude Law melts our hearts every Christmas as the doting dad in this holiday flick alongside Kate Winslet, Jack Black and Cameron Diaz. This year you can watch it on Amazon Prime and Hulu.
Home Alone 2: Lost In New York
No we haven't totally forgotten about the first one - even though this sequel proves sequels CAN be good - but sadly no streaming sites seem to have it this year. But no worries, you can watch the New York based instalment of Kevin McAllister's holiday antics on Now TV and Sky On Demand this year.
The Muppet Christmas Carol
This film is the perfect combination of singing puppets, Michael Caine and Charles Dickens that we all need at Christmas time and thankfully Sky have made it available to watch on Sky On Demand.
Love Actually
Richard Curtis melted the entire nation's hearts when he made Love Actually and nothing gives us the warm and fuzzies at Christmas quite like it. Thankfully you can watch it this festive season on Amazon Prime, Netflix (from 15th Nov), Now TV and Sky On Demand this year.
Miracle On 34th Street
The remake of the classic starring the legendary Richard Attenborough is the perfect flick to curl up and watch with all the family and thankfully Amazon Prime and Netflix have it on their sites this Christmas.
The Grinch
No festive film marathon would be complete without everyone's favourite Christmas hating green guy! The film adaptation of the Dr Zeus classic is available to watch on Sky On Demand.
The Snowman
If you want to feel like your Walking In The Air this Christmas then this iconic animated film will do just the trick! You can watch it this year on Amazon Prime.
The Polar Express
This is the PERFECT Christmas eve watch and definitely one to curl up on the sofa and enjoy under a blanket with a mince pie. You can view it on Amazon Prime and Now TV this year.
So what are you waiting for? Whack on a film because it's CHRIIIISTMAS!!!