This Maths Question Has Fooled Everyone, And We BET You Can't Solve It Either!
13 October 2017, 10:29 | Updated: 13 October 2017, 10:31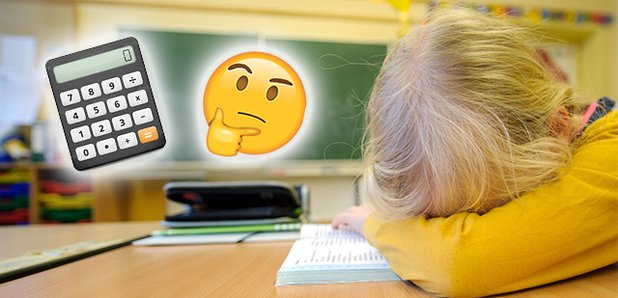 It's time to get your mathematical brain in gear.
The internet has gone into total meltdown as yet another maths question designed for school kids has stumped adults across the country.
A question surrounding the famous German composer Beethoven and one of his most popular symphonies has surfaced - 10 years after it was originally written. A disgruntled Twitter user took to social media to vent about the conundrum.
That's not how this works. That's not how any of this works. pic.twitter.com/EdSSJInqEp

— Doug Mataconis (@dmataconis) October 9, 2017
At first glance, it seems pretty simple...but read it a few times, and the confusion starts to set in.

To begin with, you think, okay - perhaps it's a simple factor of doubling the amount of playing time, if there's half the amount of people in the orchestra.

Then, rationality sets in and you think, no - it's not like they're playing double the amount of instruments, so surely the answer is the same?! One Twitter user made a fairly good logical comparison at this point:
That's like saying "It takes 9 months for a woman to have a baby, how long would it take for 2 women to have a baby?"

— Mark Ford (@fordie) October 10, 2017
Touché.

But, as you delve deeper into the question itself, there seems to be a whole hoo-ha of discrepancies.

Issue number one: First up, if you're a fan of classical music, you'll probably know that Beethoven's 9th is over 70 minutes long, not 40.

Issue number two: Secondly, the timing of a symphony depends on the speed of the conductor, not the amount of orchestra members.

Confused? So are we!

Thankfully, the teacher who wrote the maths question has piped up and put us out of our misery. She even posted a picture of the original document which includes this pesky question:
I wrote this!! How did you get this??? I am a maths teacher in Nottingham UK. Wrote this 10 years ago. Here is the original whole worksheet pic.twitter.com/jYX55GSBKz

— Claire Longmoor (@LongmoorClaire) October 11, 2017
And when asked what on earth this maths question is all about, Ms Longmoor revealed that it's a TRICK question.
Yep, she included it in the worksheet on purpose, to make sure her students were on the ball enough to spot a deliberate red-herring.

It was never MEANT to make sense.
She certainly had all of us fooled!
WATCH:School CCTV Captures Creepy Ghost Footage