This Incredible Water Park Is Designed Especially For Disabled Kids
23 June 2017, 16:37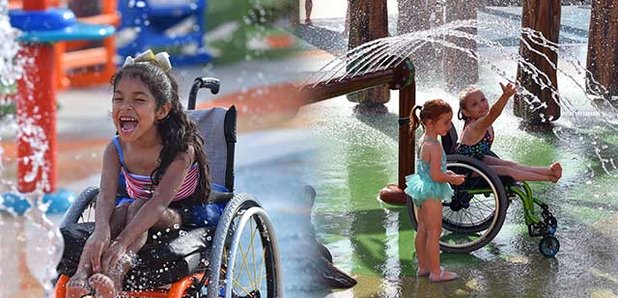 The unique theme park was inspired by a special little girl.
Gordon and Maggie Hartman have created an inclusive waterpark for disabled children inspired by their special little girl, Morgan.
Morgan's Inspiration Island is the world's first water park for people with disabilities and it's pretty much the coolest thing we've ever seen.
The park opened its doors on June 17 in San Antonio, Texas and allowed guests of all abilities to explore its six tropical themed attractions.
It consists of a river ride, splash pads, water cannons, rain curtains, swimming pools all to make for the most inclusive and stimulating experience possible for its guests.
It's not only the attractions that are designed around the guests, the park is also home to specially designed waterproof power wheelchair's to help guests get around the park withe ease. These are provided free to visitors on a first come first served basis.
The park also offers free entry to anybody with a disability.
Gordon Hartman said: "Our goal is to provide a great guest experience in an inclusive, safe, comfortable, not overly crowded environment."
"Morgan's Inspiration Island will concentrate on inclusion, and inspire guests to do things previously thought not to be in their range of capabilities."
"Those without disabilities and those with, including individuals in wheelchairs, guests with hearing and visual impairments, and even guests on ventilators, will be able to play alongside each other and gain a greater appreciation of one another."
What a magical place! If we had the same weather Texas does something like this would go down a treat in the UK.