'I Object!' Watch Dramatic Moment Bride And Groom Forced To Confess To Their Guests
10 July 2017, 13:15 | Updated: 23 August 2018, 16:58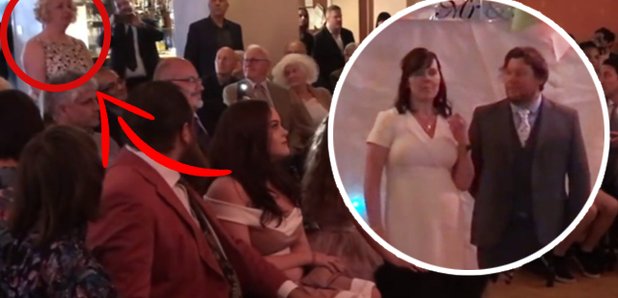 When a guest stood up to object to the marriage at Mark Whitely and Joanne Green's wedding, it forced the bride and groom to make a big confessions to their guests.
Weddings are wonderful things aren't they? Everyone is bubbling with excitement and the room is always is full of love. We mean, it's all pretty happy apart from that tense moment when the minister asks if anyone objects to the marriage.
Then a deathly still usually overcomes the congregation until the awkward silence is over.
Well, unless someone actually does object, like one guest at Mark Whitely and Joanne Green's wedding.
The drama unfolded after wedding guest, Celia Perkins, stood up at the back of the room to say: 'I object!' on the grounds that the couple were already married.
All wasn't as it seemed because Celia was actually an actress at the groom's theatre troupe Hard Graft. The bride and groom had planted their pal there for an elaborate prank on their wedding guests.
The thing is, Mark and Joanne had secretly married while on holiday at Rhinestone Wedding Chapel in Nashvilee, Tennessee, in March and kept it a secret for three months until the ceremony they'd planned at the St James the Less Parish Hall.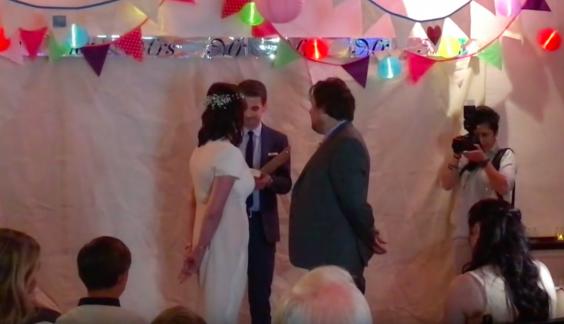 Picture | YouTube/Hard Graft
Whilst their guests were distracted, the bride and groom prepared a video screening of the legal ceremony in the States so all could be revealed to their confused guests.
Mark, 50, of Hardman Avenue, told the Rossendale Free Press: "We didn't set out to do anything different but once the seed was sown we had the recipe for an amazing (possibly terrible) day.
"We hedged our bets that it would work out. We just wanted to do something a bit theatrical, we've got a flair for a drama.
"We were worried about people being upset because it's extremely sneaky to have been married three months and not even told our children.
"We hadn't worn rings until the ceremony and we thought that was really important.
"But it has taught us how important marriage is and how important the sharing of your love with your family and friends is, and it was amazing to exchange rings."
GP receptionist and nurse Joanne, 49, said: "We decided it would be much more fun to get married in America, so we hatched a plan. We were so nervous, we didn't know if it was going to work.
"Most people kind of expected something unusual because of who we are.
"It was a mix of nerves and excitement knowing we were going to really shock everybody, but they all thought it was brilliant. That day really felt like the wedding - not Nashville."