Instagramer Emi Ferrari hilariously recreates celebs statement fashion looks
2 June 2018, 13:59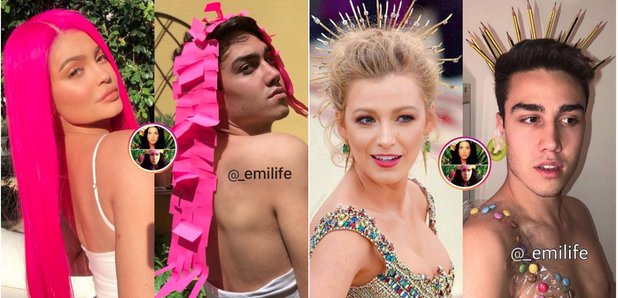 From Kylie Jenner to the Dutchess of Sussex, no one is safe from a budget copycat.
Trying to look like a celeb on a budget is something we've all tried at least once.
But for one Instagramer, imitating (or mocking) celeb styles with everyday items is a regular occurence that has bought much joy to the internet.
Whist taking the mickey out of celebs can be a tricky/dangerous fete, Emanuele Ferrari aka EmiLife seems to have mastered the skill, copying everyone from the likes of Rihanna, Zac Effron, the Jenner sisters and even our very own Dutchess of Sussex, Meghan Markle.
Using side-by-side photos of himself and a chosen celeb Emi uses anything (and we mean ANYTHING) from rubber gloves to ice cream cones and bin bags to recreate the celebrity's million dollar looks.
And if you don't believe us, just look for yourself.
Emi even used Meghan Markle's wedding dress photos for his muse, using toilet paper for his dress material.
When speaking to Bored Panda about his inspiration behind his Instagram account, he said "I noticed how some clothes in the fashion world were really so absurd and in my mind, I recreated them with the material I had at home.
"So I decided to open my account and get crazy."
Having copied celeb's looks for almost 4 years, Emi has garnered close to 800K followers and has even met one of his popular muses - Rihanna!
Despite having copied a number of the Bajan beauty's outfits, Emi admits that the Kardashian's are his favourites to mimic.
While his posts earn thousands of likes and even more comments, Emi who is currently studying, isn't too sure how long the fun will last for.
He said, "I do not know exactly where all this will bring me, but for now, it is something that I enjoy so much and that I have the pleasure of doing."