Delicate Engagement Ring Ideas For Break-The-Mould Brides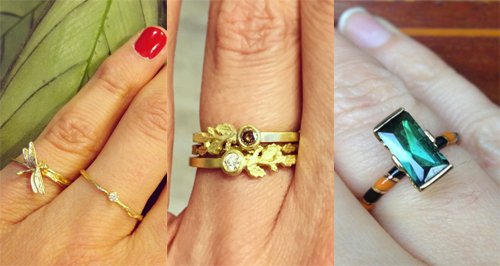 If you want a quirky diamond sparkler on your finger here's our pick of the best dainty and delicate engagement rings from Instagram…
Whether you're blissfully loved up and waiting for a diamond ring or you're free and single; it's never to early (or too late) to enjoy an engagement ring window-shopping binge!
The most popular engagement ring style in the UK is a brilliant-cut diamond solitaire, but if you're looking for something a little more unusual here's our pick of the best dainty, delicate and deceptively complicated designs from the world of Instagram…
Woodland Duo
This matching duo by Beth Gilmour Jewellery are an interesting 'Midsummer Night's Dream'-inspired take on an engagement ring and wedding band. Trust us, yellow gold is going to be massive for 2016!
Try 'old mine cuts'
Before modern sophisticated diamond-cutting techniques were introduced diamonds looked a little different. You can get that vintage-inspired look with this gorgeous 'old mine cut' ring by Alexis Dove Jewellery. What do you think?
Do the splits
Add a bit of extra sparkle with this delicate option from 77 Diamonds. The centre stone is beautiful just on its own, but we love the split diamond-set band which makes it look super contemporary.
Magic metals
This gorgeous ring by British designer Andrew Geoghegan (whose pieces have been worn by Pippa Middleton) uses two different metal colours to make a simple solitaire a little more exciting. We love it!
Shake-up your shapes
Who said diamonds have to be round? This gorgeous bridal set by Polly Wales features unusual rectangular diamonds cast in gold (rather than being traditionally set), which is what gives it such an unusual vibe. The matching wedding band is lush too!
'Teeny Tiny' treasures
This gorgeous diamond ring from British designer Alex Monroe's 'Teeny Tiny' collection looks adorable next to this pinky ring! It's oh so small, but it would be amazing for slender hands.
Silly for circles
If you want to focus less on the diamond and more on design aesthetics, then this ring by Shimell & Madden is great for you. It's still delicate, but it's sure to start a conversation too.
Cool colours
Designer Alice Cicolini uses lush coloured gemstones in her alternative engagement rings, with colour wrapped around the band too. It's daring, but we think it's perfect if white diamonds aren't your thing.
Asymmetric shapes
This lovely ring may have an unusual shape, but there's certainly plenty of sparkle! Created by N + A New York, the piece reminds us of star constellations which is perfect if you're feeling cosmically loved-up!
Perfect Pear
We adore this pear shaped diamond with two diamond baguettes on either shoulder. It may be small but we can guarantee it will look perfectly formed when it's sparkling on your finger!
Are you feeling inspired? Let us know your favourite below...