Fake Restaurant Makes It To The Top Of Trip Advisor And Susanna Reid Isn't Happy
7 December 2017, 15:51 | Updated: 7 December 2017, 16:00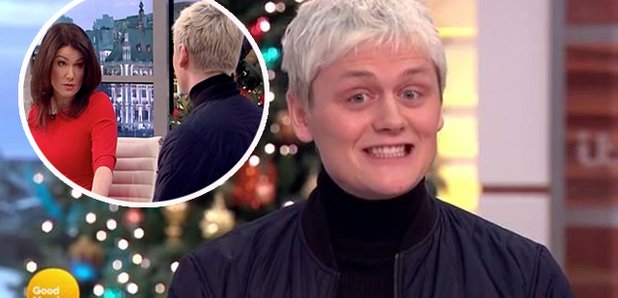 All it takes is one bored bloke and some cunning camera angles.
Journalist Oobah Butler was sitting at home one day when inspiration struck and he decided to turn his humble garden shed into one of London's most sought after restaurants.
Ambitious, right? But he managed to pull it off using the power of Trip Advisor reviews.
Good Morning Britain were as taken aghast by the story, as were the whole internet when Oobah published his original article about the ruse on website Vice, so they invited him on to explain his actions to presenters Ben Shepherd and Susanna Reid.
We don't know if we can trust internet reviews ever again after this....
Oobah created fictional restaurant 'The Shed at Dulwich' on TripAdvisor and made a website and a Facebook page for the non-existent establishment before setting to work crafting some plates to rival top nouveau cuisine using less than conventional ingredients.
The 'behind the scenes' pictures tell a totally different story...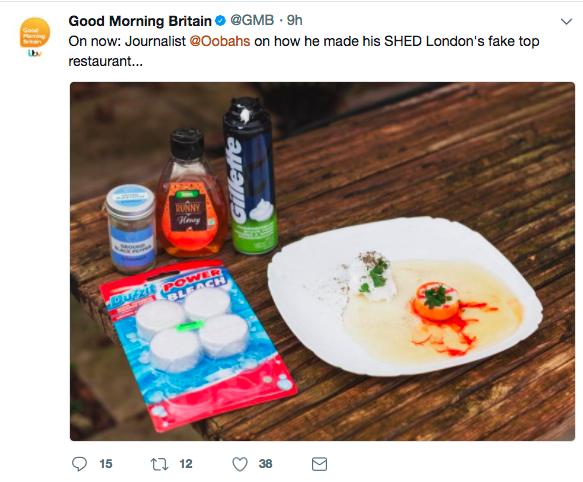 He explained to Susanna and Ben: "I knew that it needed that air of mysticism, so used things like 'it's an appointment only restaurant' and 'it's impossible to get a table'. All of these buzzwords exist in food anyway."
"I set up these rules, sent them out to my family and friends and said 'review it please' in this manner and we started climbing the rankings".
Before he knew it people were falling for it hook, line and sinker and London foodies were emailing in their hordes to nab a table at the appointment only 'restaurant'.
Ben Shepherd seemed pretty impressed by Oobah's cunning plan but Susanna Reid seemed to air more on the sympathetic side to the people that fell for it and called him a "naughty boy".
After months of The Shed's phone ringing off the hook it finally made it to number one on Trip Advisor making it London's top restaurant and beating The Shard and The Ivy amongst some other of the capital's most famous eateries.

A shed in a backyard in Dulwich had duped everyone - but how did this possibly happen? We asked Trip Advisor for comment...
"Generally, the only people who create fake restaurant listings are journalists in misguided attempts to test us. As there is no incentive for anyone in the real world to create a fake restaurant it is not a problem we experience with our regular community – therefore this 'test' is not a real world example."
Fair enough, but top marks for effort to Oobah anyway for creating a top restaurant quite literally out of thin air.