WATCH: This Family Turned Their Driveway Into A Real Life Diagon Alley!
2 November 2017, 15:11 | Updated: 2 November 2017, 16:03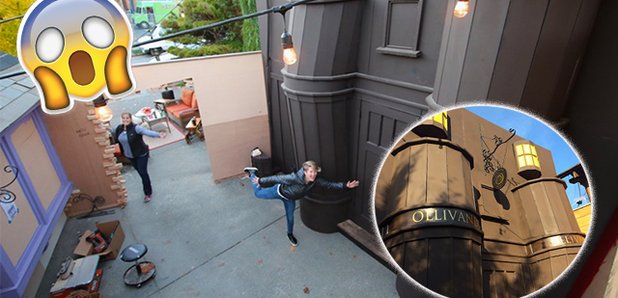 This Harry Potter mad family transformed their drive into a Wizarding wonderland.
There are a lot of crazy Harry Potter fans out there in the world and as with every fandom, they're willing to do some crazy things.
But Jonathan Chambers and his family went beyond just putting on very convincing Hogwarts uniforms for Halloween...the recreated Diagon Alley in their driveway!
After he left his previous job he had a couple of weeks spare before he had to start looking for his next role and he took the opportunity to build something wonderful for Halloween based around his kids favourite film series.
He said the project took him "2 weeks and one day of actually building it".
"It's obviously got way bigger than I originally planned because the community came together and donated supplies, people are here helping all the time."
The magical paradise in Seattle was all for trick or treaters and encouraged donations from visitors to raise money for cancer research and will stay up until Christmas and has had fans flocking from miles to visit its cobbled streets...
Iconic features of the fictional Diagon Alley that the family created in their backyard include Ollivander's Wand Shop, Flourish & Blott's book shop and Madame Malkin's robe shop.
The attention to detail didn't stop there either as Jonathan even got a Golden Snitch printed in 3D!
The golden snitch! #diagonalleyproject @lulzbot3D @NinjaTek3D #ninjaflex pic.twitter.com/sC2pXNaFex

— Jonathan Chambers (@dummaloop) October 30, 2017
And trick or treaters, of course, flocked in full Hogwarts outfits and didn't look at all out of place wandering the alleys of the most famous magical streets out there.
Quality Quidditch Supplies pic.twitter.com/HkgFHtKVIC

— Lena (@lenaloveslifeX) November 1, 2017
Can someone book us a flight to Seattle please?! We HAVE to see this!