This Popular Website Is Charging You MORE For Plus Sizes...And Women Everywhere Are Furious!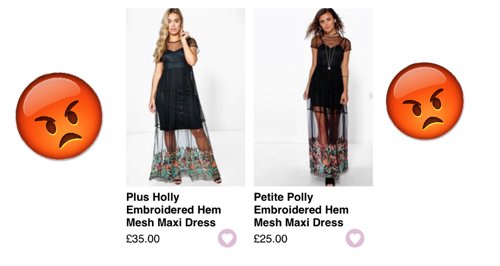 Women of the world...UNITE!
Sorry if we're mistaken but we assumed that if you bought dresses that are exactly the same, they would cost the same amount regardless of the size.
Well one eagle-eyed shopper found out that this isn't always the case.
Becky Bedbug, a lifestyle blogger from Hampshire, was flicking through ASOS and was shocked to discover that the plus size version of a Boohoo Boutique dress was £10 more expensive than the smaller one.
You've got to be joking!
Taking to Twitter to share her shock discovery, Becky posted a picture of the two dresses side by side and it wasn't long before the Twittersphere was in uproar!
So cute when brands charge extra for the same dress in a couple of extra sizes @boohoo @ASOS pic.twitter.com/ABmaSE63lZ

— Becky Bedbug (@BeckyBedbug) July 10, 2016
ASOS plus size ranges start at a size 18, while the mainstream collections generally range from sizes 6-16.
Of course this wasn't the only issue that riled people, as eagle-eyed shoppers also noticed the plus size version seemed to be a lot longer, sparking outrage that they'd change the design for curvier women.
@BeckyBedbug @boohoo @ASOS why have they made it longer? Can't us fatties show any leg above the knee?

— Chelsea (@ChelseaLIML) July 10, 2016
Not happy with what she had seen, Becky later spoke to ASOS who reportedly explained their reasonings for the price change.
"According to ASOS, the price is different because it has a different product code," says Becky.
"When I asked for clarification, they said it was because the design is different. The hem is lower and the neckline is slightly different."
"I'm not sure why they decided to change the design — are plus size women supposed to be ashamed of their bodies?"
"I understand there is an argument for more material but surely the difference between a size 6 and a size 16 is far greater than a 16 and 18. And if that were the case, why are petite clothes not cheaper?"
The girl has a good point!
Obviously feeling the backlash, ASOS were forced to explain themselves to the Twittersphere as they argued:
@BeckyBedbug These are both different products so wont follow the same price. Also these aren't made by us, so have no sway over them

— ASOS Here to Help (@ASOS_HeretoHelp) July 10, 2016
@BeckyBedbug It seems even though they're very similar, the leg length is quite different and one is sweetheart while the other is V neck

— ASOS Here to Help (@ASOS_HeretoHelp) July 10, 2016
Despite the speedy reply from ASOS, there is still one burning question that needs to be answered.
How can you justify charging £10 more for two strikingly similar dresses?
That's when Becky got Boohoo – the manufacturers – involved.
@BeckyBedbug @ASOS_HeretoHelp @boohoo ..are prices vary from time to time and are subject to change but all depends on the suppliers.Nikki x

— boohoo help team (@boohoo_cshelp) July 10, 2016
Becky claims that Boohoo have been very responsive to her emails and said they would be looking into their pricing structure, whilst ASOS seem to have mysteriously adjusted their prices to an equal figure.
We'd say that's a battle well won Becky!