ASOS praised for using a curvy girl to model teeny weeny yellow bikini
1 April 2018, 13:03 | Updated: 7 June 2018, 16:59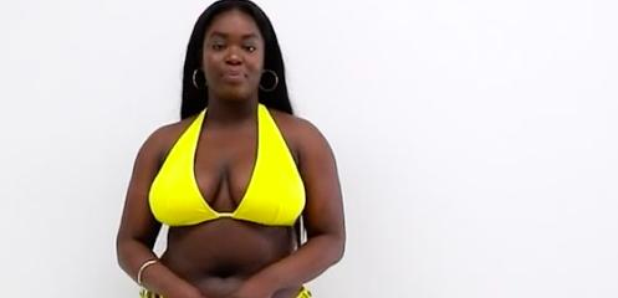 ASOS has been praised on social media for using a plus-size model to showcase one of their skimpy bikinis.
Voluptuous Vivian Eyo-Ephraim, from London, is seen wearing a striking yellow two-piece for the retailer's 'Curve' collection online.
Standing proud as she shows off her size 18 figure, the brightly-coloured halter-neck design is definitely one to make you stand out from the crowd.
Read more: Stacey Solomon slams airbrushed photos by posting natural bikini snaps
Speaking to Metro, Vivian - who is represented by Bridge Models - said: "The modelling world is still so new to me, to see the amazing support and response from a job I did is just incredible.
"I couldn't be more grateful to ASOS and Bridge for taking a chance on me and allowing me to show the world that everybody is beautiful, no matter what their shape, size or ethnicity.
"The world is a very diverse place and it's important that consumers see brands representing and recognising all ethnicities, shapes and sizes, we want to see ourselves represented, celebrated and recognised."
Fans have swamped Twitter with their thoughts on the campaign, praising the fashion outlet for the positive images and for portraying real women.
Yes @ASOS another good step in a positive direction

— Sarah Elliott (@filmbysarah) March 29, 2018
she's so beautiful and seeing my body shape being represented as well makes me so happy

— martina (@notyoursweetea) March 29, 2018
Instantly ordered this bikini Woiii sahhhh yes that's who I want to see modelling swimwear befor I buy!!!!

— SONNY ♡ (@iamsonnyturner) March 29, 2018
Hopefully more brands will take notice and follow suit.
Well done ASOS!