A Designer Is Trying To Sell A PAPER CLIP For £140 And The Response Is Hilarious
26 June 2017, 16:32 | Updated: 7 June 2018, 16:59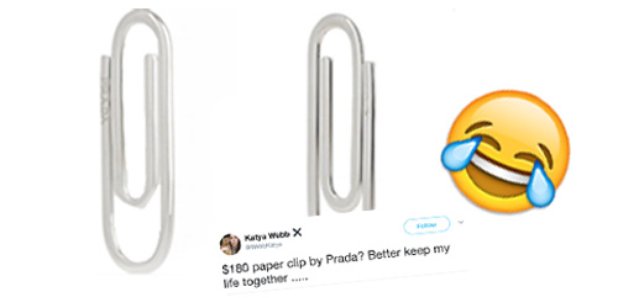 Top fashion houses never fail to amaze us with their daft collections of garments.
Prada has left the world stunned with their latest fashion accessory.
The Italian fashion is the latest luxury brand to take the brunt of criticism after Balenciaga received backlash for unveiling a range of items costing upwards of £800.
Balenciaga was mocked mercilessly for their fake paper shopping bag – which presumably allows rich people to imagine what it's like to carry your own shopping – and oversized blue tote come Ikea bag.
However, Prada's latest design takes the crown for the most useless item yet.
Introducing the paper clip!
What kind of elite do you have to be to buy a Prada paper clip-shaped money clip. pic.twitter.com/e1CWv3s49D

— Adadioranma, LSP (@Adaoraaa) June 23, 2017
Yep, this silver piece of metal which obviously has drawn inspiration from Office World's classic stationery collection is now the MUST-HAVE accessory of the season.
This isn't just any old paper clip, though. It's a money holder. You know, the type for holding the ZERO amount of cash you'd have left after blowing it all on such useless items?
Oh, the irony.
Believe it or not, it's currently retailing on Prada's website for $185 (£140), just a smidge more than the £2.09 you'd pay for a pack of 100 paper clips at Staples.
Twitter had a lot to say on the matter, with many taking to Twitter to poke fun at the brand.
On the left: paper clip. 1 Riyal for 50 per pack.

On the right a PRADA paper clip. 185$ per piece.#marketing #Advertising #ripoff pic.twitter.com/vR4tXyBxTq

— Hazem Albalushi (@HazemAlbalushi) June 23, 2017
Prada is selling a $185 paper clip and it doesn't even help you write a resumé. pic.twitter.com/sLEjKRKM1o

— Matt Fernandez (@FattMernandez) June 24, 2017
@DanielleMurr @MikeHsuAAF The working man/woman's Prada paper clip... pic.twitter.com/6NQ9jdkuDO

— BellaDonnaPoison (@DonnaMLanglais) June 26, 2017
"Paper clip shaped" pic.twitter.com/0hG7fTBAxF

— C.R.E.A.M (@Offficial_Dre) June 23, 2017
Who knows, perhaps brands like Prada and Balenciaga are simply SO fashion forward that mere commoners like us just don't understand their genius...