10 Celebs Who Prove Sunglasses Are ALL You Need To Be Holiday Ready!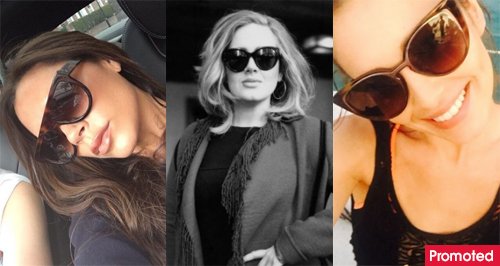 Whip off those black tights and rain-proof jackets and embrace the sun in the most British way possible...with a pair of shades, of course!

Keep everything crossed, because it looks like the summer sunshine has finally arrived (famous last words)!
Whether you've invested in a whole new summer wardrobe, or are making the most of what you've already got - nothing gives your look an update like some cool shades.
Don't believe us? Just take a look at these celebs for style inspiration, then shop to your heart's content on Lyst.com. Job done.
Adele does cool covered up
All Brits know that even the smallest ray of sunshine is an excuse to get the sunglasses out! Just take a look at Adele, who manages to add a bit of summer chic to her outfit with some dark black sunnies. Doesn't she look amazing?!
Taylor Swift and Lorde hit the beach
Doesn't it look like Tay-Tay and her BFF Lorde have just accidentally strolled onto a beach and thought, quick, grabs the sunglasses! Somehow this combo of formal shirt, shorts and sunglasses is our idea of style heaven. Thoughts?
Victoria Beckham drives in style
The Spice-Girl-turned-fashion-icon is rarely seen without her sunglasses (only Anna Winter beats her in those stakes!), but this pair are absolutely HUGE. They cover most of her face...even Brooklyn looks a bit bemused!
Reese Witherspoon strikes a pose
The award-winning actress looks every bit the Hollywood star in this gorgeous photo. We love the fact she's teamed her classic black sunnies with a pair of old school trainers and a simple shift dress - who said cool can't be casual?!
Karlie Kloss updates the simple sundress
Meet Karlie Kloss. Top model, member of Taylor Swift's celeb squad, expert coder, and all-round annoyingly perfect superwoman. She even makes a simple pale blue shift dress look glamorous! Seriously though, how cool do those sunglasses make her look...
Cheryl poses by the pool
Cheryl is one of those women who always looks fantastic, especially when she's au natural. These big cat-eye sunglasses in a classic mottled brown tortoise shell effect are right at the top of our wish list.
Beyonce is our ULTIMATE holiday inspo
She always looks amazing, but there's something effortlessly cool about this hat, sunglasses and off-the-shoulder top combo. Plus, Blue Ivy looks beautiful in that floral crown. This is definitely a photo for the Carter-Knowles family album!
Kourtney Kardashian
We love the way Kourtney's swimming costume matches the mirror-shine of her sunglasses. We're not sure about the star fish accessories though...we think we'll leave them in the ocean where they belong!
Katy Perry looks festival ready in nude shades
She's a style chameleon, but Katy Perry always looks amazing when she's stripped of the crazy costumes so her natural beauty can shine through! These nude shades might look odd on the shelves, but take a leap and buy an unusual pair that make a statement. If it's good enough for Katy...
Maisie Williams brings back the 90s
'Game of Thrones' star Maisie Williams looks like she's channelling Gwen Stefani in this 90s-inspired snap. If you're feeling daring, grab youself some huge round shades, a choker necklace and work those duo top knots...now all you need is All Saints on the radio!
Whose sunglasses style do you want to steal? Let us know below...