10 Celebs Who've 100% Nailed Festival Fashion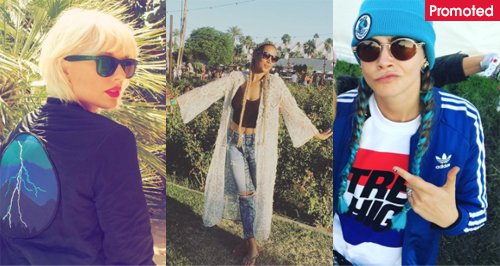 Want to stop festival goers in their muddy tracks with your achingly cool ensemble? Of course you do! Get some style inspiration with our rundown of the most festival-ready celebs...

Whether they're trudging through two foot thick mud in the rain (yes, Glastonbury 2016, we're looking at you), or basking in the California sun, celebrities always manage to find ways to look incredible at music festivals.
A floor length waterproof poncho might be the most practical item on the list for a UK outing...but who wants to look practical!
Up your festival swagger by drawing inspiration from these oh so festival-ready celebrities. Want to get the look? Shop the biggest festival fashion trends for SS16 over on Lyst.com.
Taylor Swift nails the statement bomber jacket
If you're set on a comfortable pair of shorts and a vest top, use a cool jacket, an over-sized pair of shades and a bit of red lippy to turn simple into a fashion statement.

Natalie Dormer makes casual look cool
'Game of Thrones' actress Natalie Dormer managed to make an I-grabbed-this-out-the-wardrobe ensemble look super cool thanks to some co-ordinating colours in her wellies, sunglasses and old-school anorak.

Alexa Chung looks fierce and fluffy
If there's anyone who can pull off PVC trousers and a fluffy 'Clueless'-inspired jumper for a day out at Glastonbury, it's Alexa Chung. The style icon showed off some fantastic outfits at this year's event, including a jumper dress that was achingly 90s. Nice work!

Millie Mackintosh shows some skin
The queen of lean opted for a fedora, body paint and temporary glitter tattoos to complete her Glasto look this year. We love the embroidered off-the-shoulder top she's wearing...who said an all-black get-up couldn't be exciting?!

Daisy Lowe puts accessories front and centre
There's something effortlessly sexy about Daisy Lowe...if anyone knows her secret please can you write it in the comments below?! We love the fact her outfit is simple, which makes her brilliant blue handbag stand out even more.

Leona Lewis opts for floor length lace
Coachella is the ultimate location for boho chic fashion, so it's no surprise that Leona Lewis chose a long, flowing lace coverup for her festival look. We love her duo braid hairstyle too, which was undoubtedly the most on-trend 'do of the whole sun-soaked event.

Suki Waterhouse, Clara Paget and Cara Delevingne go hardcore 90s!
Anyone born in the 80s will remember when this neon rave look came around the first time in the mid-1990s. Amazingly it's back in a big way in 2016, with 'It Girls' Suki, Clara and Cara rocking pink-tinted shades, blue hair extensions, stretch chokers and crop tops.

Lea Michele does festival sport chic
There goes those double braids again! We love Lea Michele's style - classic, elegant and understated - and this festival version is no exception. Just like Taylor Swift, Lea grabbed a silky bomber jacket and wore it tied around her waist just in case it, errr, rained in California!

Ellie Goulding stuns in sequins
We know, we know, anything delicate will automatically get ruined at a festival, right? Well, if you're in the uber posh VIP backstage area it's more champagne and canapés than campsites and cider! Ellie Goulding looks lovely in this shimmering pink top, which matches perfectly with her matte lipstick and delicate gold earrings. Nailed it.

Alessandra Ambrosio does her best model pout in florals
The queen bee of Victoria's Secret Angels proved that festival florals are still hot property at this year's Coachella. Okay, so you might not want to don your floral crown on a trip to the corner shop, but we'd wear that gorgeous pink kaftan any day of the week!
Who do you think has the best festival style? Let us know below...