Clothing brand accused of fat shaming with offensive jumper... that only goes up to XL
13 September 2018, 14:40 | Updated: 13 September 2018, 15:02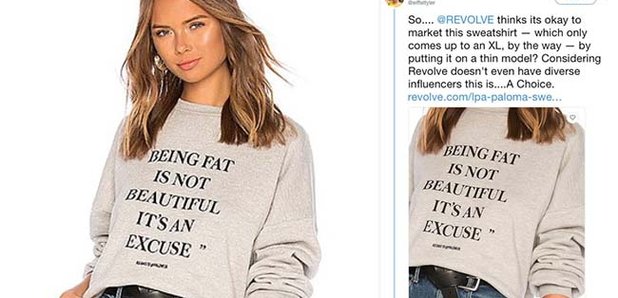 Revolve were forced to remove the item after being labeled disgusting by social media users who didn't see the true meaning of the slogan.
A fashion brand has been forced to remove an offensive fat shaming jumper after floods of complaints.
High-end outlet Revolve were selling the jumper via their online portal, with a slogan that stated: "Being fat is not beautiful, it's an excuse."
The sweater retailed for £162 and only went up to size XL.
Though the message on the top was offensive, it was actually being sold as part of a campaign to call out trolls.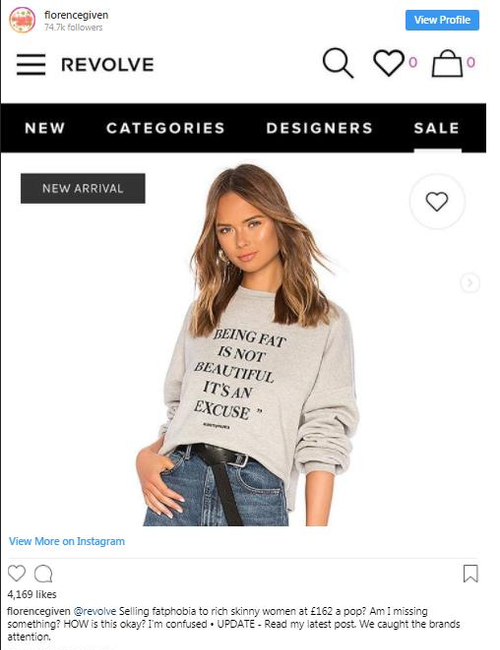 Florence Given was among the first to call out the brand's faux pas
Revolve's sweaters were being sold as part of a charity collaboration against cyber-bullying, with celebrities such as Lena Dunham, Cara Delevigne and Suki Waterhouse contributing the most "abusive and controversial comments" they've ever been sent by trolls.
Model Paloma Elsesser was the target of the hateful comment emblazoned across the front of the offending jumper.
However, this was not made clear in the product description.
Other hate-fuelled comments highlighted by Revolve's collection included "Too Boney to be Boned", "Horrible Result of Modern Feminism", and "Slut Feminist Nightmare".
Compounding the outcry over the controversial design, Revolve chose a thin model to wear the jumper.
London-based artist Florence Given was among the first to call Revolve out on the embarrassing faux pas.
Florence is responsible for the empowering T-shirt worn by Megan Barton-Hanson on Good Morning Britain, which said: "Stop valuing women based on their sexual history."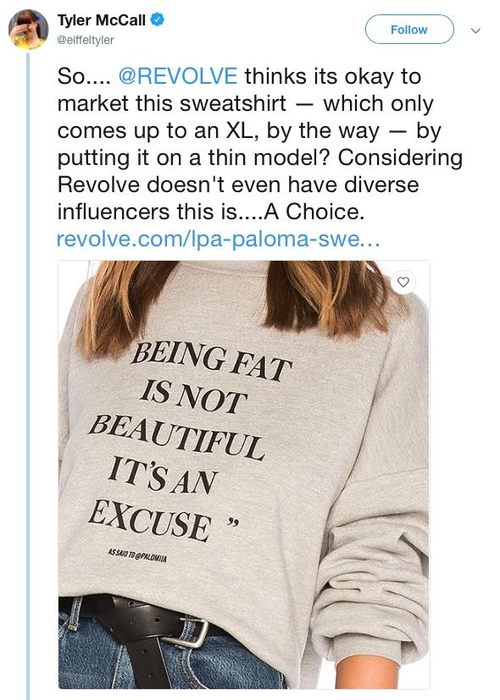 Twitter users also levelled criticism at Revolve
Describing herself as a "social issues advocate" in her Instagram bio, she shared her disgust for the offensive designs with her 74k+ followers.
And hundreds of her fans shared in her dismay at the ill-advised product.
She wrote: "Selling fatphobia to rich skinny women at £162 a pop? Am I missing something? HOW is this okay? I'm confused."
Twitter users also levelled a barrage of criticism at the brand.
One user, tifffromthe6, posted: "So the brand that doesn't cater to women above a size 10 @REVOLVE made these sweatshirts to combat "internet trolling" but decided to put the sweatshirt about fat shaming on a skinny model."
Another, eiffeltyler, wrote: "So.... @REVOLVE thinks its okay to market this sweatshirt — which only comes up to an XL, by the way — by putting it on a thin model? Considering Revolve doesn't even have diverse influencers this is....A Choice."
In fact, the top caused such a furore that Paloma Elsesser contacted Florence to tell her that she was 'mortified', revealing "the sweatshirts went up early on Revolve for some reason" and the "point was to shine light on how horrible trolling is" and give the "proceeds to charity".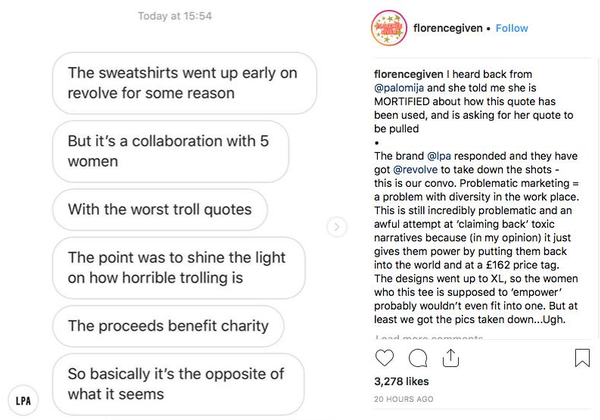 Florence posted this series of comments from LPA defending the faux pas
Asserting that the "whole point was the exact opposite" of what everyone thinks, the plus-size model has now made Revolve take down the sweatshirts from the site.
They have since pledged $20,000 to a charity called Girls Write Now, which provides mentoring to young women and encourages them to find their voice through writing.
A spokesperson for Revolve released the following statement to Fabulous at The Sun: A spokesperson for Revolve told Fabulous Online: "This morning, images of a forthcoming LPA collection were prematurely released on Revolve.com.
"The capsule collection – originally conceived by LPA alongside Lena Dunham, Emily Ratajkowski, Cara Delevingne, Suki Waterhouse and Paloma Elsesser – was set to debut tomorrow as a direct commentary on the modern day "normality" of cyber-bullying and the shared desire to create a community for those most affected by the epidemic.
"Proceeds were set to benefit "Girls Write Now", a charity focused on mentoring underserved young women and helping them find their voices and tell their stories through writing.
"The prematurely released images featured on Revolve.com was not only included without context of the overall campaign but regrettably featured one of the pieces on a model who's size was not reflective of the piece's commentary on body positivity.
"We at Revolve sincerely apologise to all those involved – particularly Lena, Emily, Cara, Suki and Paloma – our loyal customers, and the community as a whole for this error."