The Ten Most Iconic Fashion Moments In Friends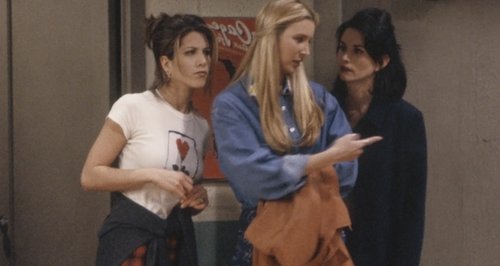 From when the girls dressed up in wedding dresses to when Ross and Joey wore the same shirt - here are some seriously memorable style moments from Friends...
It wasn't just the quick wit, in-jokes and will they/won't they story lines that made the show such a success. Over it's ten year run, 'Friends' had a huge impact on how the women of Britain looked. Everyone remembers the 'Rachel' hair-do, right, RIGHT? Not to mention the revival of our love of denim shirts and dungarees! Yep, the programme may feel like a lifetime ago but the show's styling and fashion feels so NOW...
Rachel's work wardrobe in general was to die for – but what about this classic LBD?!
And we're still OBSESSED with
the ultimate '90s all-in-one denim dungarees, worn by Monica...
And when
Phoebe rocked this timeless red winter coat...
The moment Rachel made boys' baseball clothes cool...
Oh, and when the girls all dressed up (in wedding dresses) to stay in...
The crop top and high-waisted trouser combos from Monica and Rachel...
Phoebe's boho style still inspires our festival fashion choices...
When everyone wore dresses over tops...
When roll necks became a big thing...
And let's not forget the monochrome look that inspired so many...
We're off to watch some old re-runs of the programme now...