People Are FURIOUS About Boohoo's New Campaign For 'All Girls'
8 August 2017, 09:59 | Updated: 7 June 2018, 16:59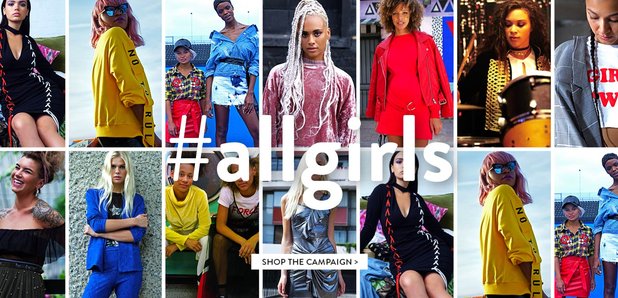 Many shoppers are angry at just how excluded they feel from Boohoo's "inclusivity" campaign.
Not that long ago, the low-price fashion retailer Boohoo.com was criticised for not using actual plus size models to demonstrate their plus size clothes. Now they're gone one step further and people are angry.
The online boutique has launched a new campaign titled #AllGirls aimed at "inclusivity" in fashion.
Only, there's just one thing: there are no plus size models. Or disabled models. Or trans. Or anyone over the age of 30.
So apparently, when Boohoo.com talk about inclusivity, they mean to include everyone who already fits in well in the fashion industry.
Shoppers are fuming at the brand's advertising campaign, claiming that they are just jumping on the bandwagon of inclusivity without actually bothering to promote a body-positive image.
Many people took to twitter to highlight just how excluded they feel from Boohoo's inclusivity campaign.
I am not included in @boohoo inclusive.... maybe I should hide in the shadows, however that's not my style! I'll have to buy from elsewhere pic.twitter.com/znpor80Ag8

— Fat, 30 and Fabulous (@bbwprincesstps) August 7, 2017
#weareallgirls if you don't want our money fine, but don't pretend to be inclusive when you're not!! pic.twitter.com/0Ny0rOJDkp

— Debz (@Debzjs) August 7, 2017
No disabled girls. No older girls. No fat girls. How is this inclusive? More like alienating

— chubby chic (@lingeriecurator) August 7, 2017
Inclusive? pic.twitter.com/Fmi7aReS8B

— TraceyH (@GreyWarden85) August 7, 2017
Considering that Boohoo.com recently came under fire for not using plus size models to demonstrate their plus size range, as well as charging more for their plus size range, and now this, we reckon they've made it pretty clear about where they stand on anyone who doesn't fit into the perfect fashion model package.
We know that clothes sell better when they're on beautiful people, but don't try and claim to be sticking up for the 'ordinary people' when you're quite clearly not.
Love your body.