Add Sparkle To Your Wardrobe With 5 Easy Day To Night Looks
9 January 2018, 13:05 | Updated: 7 June 2018, 16:59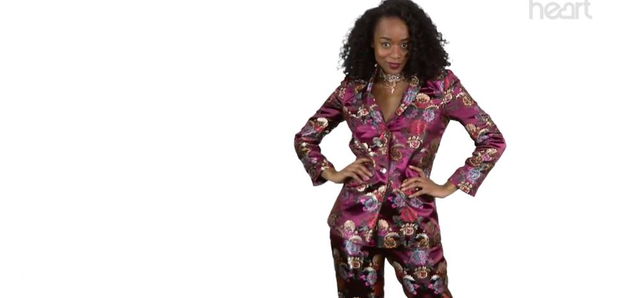 Sian Welby and Annaliese Days give you their top tips on how to add some sparkle to your wardrobe in 5 easy ways.
Struggling for outfit ideas in the lead up to the New Year? Or perhaps you have a daytime affair and not enough time to get ready before dashing out the house to party?
We've got you sorted with some easy steps on how to add a little sparkle to your every day look before pulling all the stops out at night with a slight change of items.
Daytime Tips!
1. Experiment with pattern and add brocade to give your daytime wardrobe a bold look.

2. Use embellishment to add some sparkle to a casual outfit.
3. Try pairing sequin leggings with knitwear to add a festive pop to your daytime look.
4. Mix metallics and satin for an effortless luxury look
5. Make sequins work for daytime by throwing on a denim jacket
Night Time Tips!
1. Try wearing a blazer without a shirt for a sexy nighttime look and pair with a choker for added glam.

2. Velvet is always a lazy way to achieve a luxury look that's comfortable.
3. Opt for a cape blazer for a sexy and chic way to cover your arms at night.
4. Add a fur coat to glam up your look for cocktails or dinner
5. Experiment with bell sleeves for a retro feel and add metallics into the mix for disco vibes
Watch the video below to for some easy outfit hacks!
Full Video Credits:
Annaliese day look 1:
Wet look leather jeans, New Look, 25.99
Brocade blazer, Primark, £25
Iridescent bag, Very.co.uk, £17
Cream blouse, Next, £25
Annaliese Night look 1:
Layered gold choker, New Look, £9
Brocade blazer, Primark, £25
Brocade trouser - Primark £15
Sian day look 1
Metallic biker jacket, Pretty Little Thing, £25
Embellished trousers, Pretty Little Thing, £25
Cream Blouse, Next, £25
Pear earrings, Primark, £2
Sian Night Look 1:
Embellished blazer, Pretty Little Thing, £32

Embellished trousers, Pretty Little Thing, £25
Pearl earrings, Primark, £2

Annaliese day look 2
Pearl beret, New Look, £6.99
Shirt, Next, £25
Sequin leggings, Boohoo, £20
Fluffy white jumper, New Look, £16 

Annaliese Night Look 2
Tassell earrings, Nasty Gal, £8.00
Velvet bodysuit, New Look, £17.99
Sequin trousers, Boohoo, £20
Sequin cape blazer, Boohoo, £30
Sian Day Look 2
Satin shirt, Pretty Little Thing, £22
Metallic skirt, Boohoo, £14
Denim Jacket, Primark,
Sian Night Look 2
Fur coat, Pretty Little Thing, £80
Metallic skirt, Boohoo, £14.00
Annaliese Day Look 3 

Silk Shirt, Pretty Little Thing, £22
Sequin Skirt, Very, £55
Denim Jacket, Primark
Annaliese Night Look 3 

One sleeve metallic bodysuit, Nasty Gal, £14
Sequin midi skirt, Very, £55
Pearl earrings, Primark, £2