Proof That Kate Here's PROOF That Middleton Has Been Taking Style Tips From The Queen
6 April 2017, 11:37 | Updated: 7 June 2018, 16:59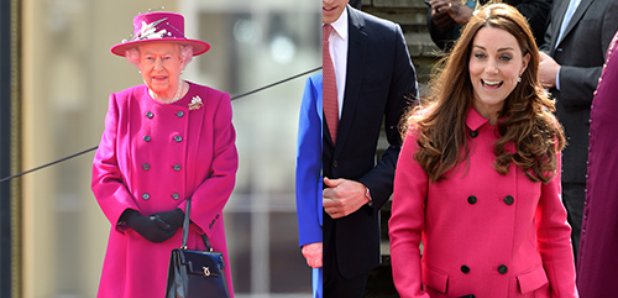 We think the Duchess of Cambridge's style secret is more obvious than any of us have realised before!
The Duchess of Cambridge always looks absolutely flawless!
Whether it's at a red carpet event, royal visit or special occasion, she pretty much looks fabulous every damn time.
Her looks are always the right amount of classy paired with interesting brands and labels and is the star of the show whenever she walks into the room.
But this whole time, we may have overlooked one HUGE thing.
Kate is getting style inspiration from some more senior royals! And here's the proof...
The Duchess of Cambridge has clearly got a love of pastels from her grandmother-in-law!
This overcoat number worn by Kate has a stark resemblance to one previously worn by ma'am! It's a great colour, especially for the spring, and we think they look dashing in daffodil!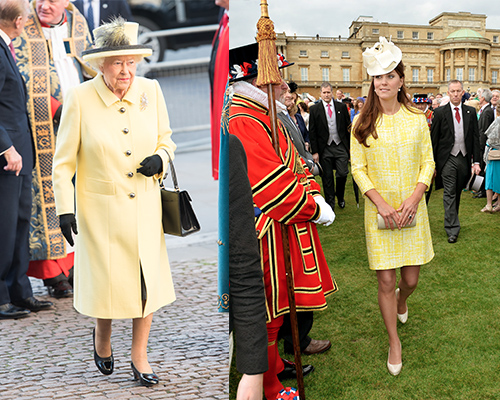 This orange number won by Kate when she was pregnant also has a hint of Her Maj'.
But she's got a lot to learn if she wants to to pull off pastels like the Queen does!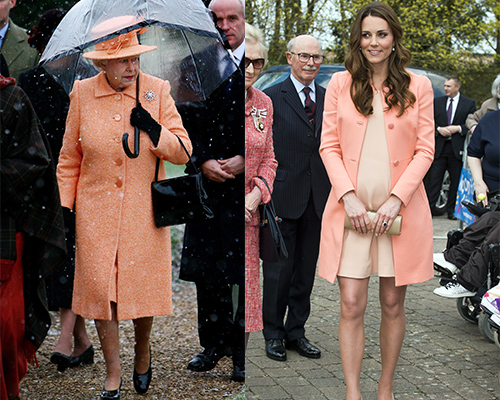 Kate even accessorizes like the Queen!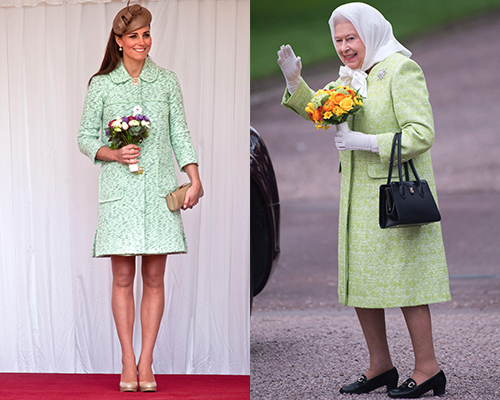 The resemblance is uncanny! But Kate has cleverly made this look younger by adding a sophisticated fascinator as opposed to the headscarf that Lizzie has opted for.
But the choice of a bouquet of flowers as an accessory is a cutting edge fashion choice from both ladies, very chic indeed!
Fabulous in fuschia!
It might have taken us a while to notice that Kate was taking fashion tips from the Queen, but after we saw this photo we realised it couldn't be more obvious!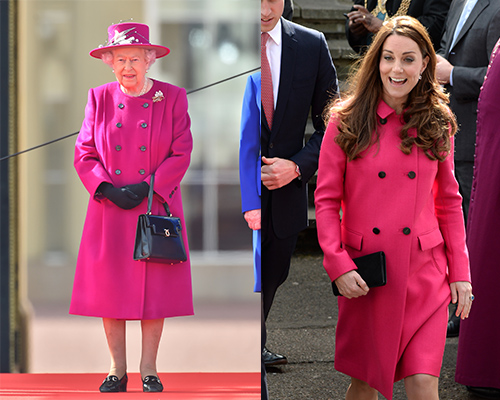 Both ladies look fab in pink fuchsia and Kate's pulled off the Queen's look down to a tee complete with black handbag matching the black buttons down the front of her overcoat.
But the Queen isn't Kate's only royal style inspiration...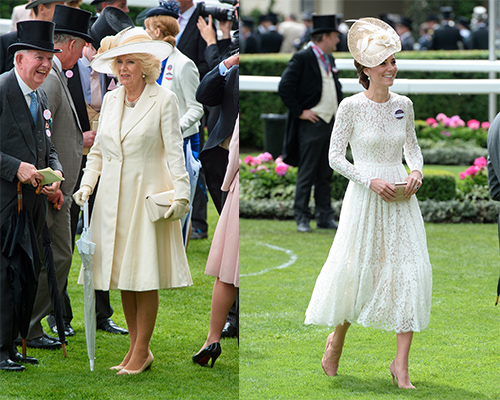 Kate took a leaf out of Camilla Parker-Bowles' book when they headed to Royal Ascot! Or perhaps they intentionally co-ordinated outfits?
Who knows, but they both look perfectly dressed for the occasion in white A-line dresses, matching hats and nude heels.
Maybe we need to pay our grandparents fashion sense more attention.
Kate ALWAYS looks amazing and if this really is her secret then it's good enough for us!