Michelle Keegan Says THESE Are The Essential Fashion Colours For Next Year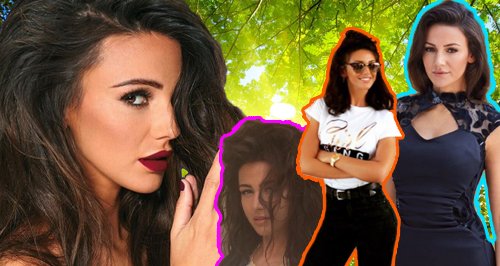 The 'Our Girl' star has created her latest clothing collection for Lipsy and it's full of two specific shades...
Great actress. Check. Handsome husband. Check. Super stylish business lady. Check.
Seriously, Michelle Keegan has got this whole life thing sorted!
Now, she's on a new mission (of sorts) to help fill our wardrobes with trendy clobber because, let's face it, who's got time to try and figure out what looks from London Fashion Week are ACTUALLY worth attempting?!
The 29-year-old actress joined forces with Lipsy in 2014, and since then she's been launching seasonal capsule collections. The brunette beauty has revealed she wanted to move her designs "a step forward" from her Autumn/Winter 2016 range and introduce some lighter, brighter colours.

The former 'Coronation Street' star - who is known for her role as Tina McIntyre in the longstanding soap - has revealed the clobber will still include forest green shades, which she incorporated in her Autumn/Winter range, but she has also infused her creations with "a bit of blush pink" and embroidery detailing.
She explained: "So we've infused a bit of blush pink in this collection, and embroidery is a massive trend this year, well this season, so we've got a lot of embroidery, and we've stuck with the forest greens as well because I know that's going to be massive."
That's right ladies... it's all about deep green and pink for SS17.

Michelle has also revealed she has focused largely on embroidery in this collection and "oriental embroidery" in particular, so her designs are on trend.
Instead of justing giving it a quick Google, Michelle and Lipsy do loads of travelling to discover what's hot and what's not!
She said: "We've got researchers who go to China and they go to LA and New York to see what's going to be the next trends and bringing it over to us."
If it's good enough for Michelle, it's good enough for us!
Will you be snapping up pieces from Michelle's collection? Let us know below...