The Most Hilarious Remarks Overheard At Fashion Week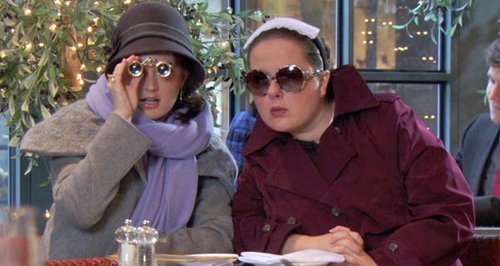 It's amazing what you can hear eavesdropping at fashion week. From "take a picture of me pretending to eat this burger" to "you're looking fabulous and young darling" - here are some of the funniest remarks overheard...
SAY WHAT?! If you're still LOLing at 'Overheard in Waitrose', you'll love this. Nothing brings out the best comments like New York or London Fashion Week.
Dahling, here are some of the funniest (and most toe-curling) remarks overheard at fashion week...
"Finally someone took my picture outside!"
"Poppy seeds are just a no no for fashion week – they're the worst. No one wants to talk to you if you've got poppy seeds stuck in your teeth."
"I just had the most painful blow-dry, I wanted to cry. The volume just isn't worth it."
"I'm wearing this hideous banana clip in my hair that I'm trying to make happen."
"Oh my god, I love onion rings, but obviously I haven't eaten one in forever."
"Leather pants today and a yeast infection tomorrow."
"We've had too many carbs today to be this bitchy."
"I just want to jump into this bin of Diet Coke. This is my dream!"
"Can you take a picture of me pretending to eat this burger?"
"Standing is the new front row."
"I've never seen people try so hard."
"You look fabulous and young."
"This is the skinniest I've ever seen you!"
"Shivering burns calories."
"Like, the last thing I want to think about right now is food choice."
Guy wearing sunglasses inside: "I can't see a damn thing. But it's alright."