Fans Have Lashed Out At This Plus Size Brand Over Their Latest Campaign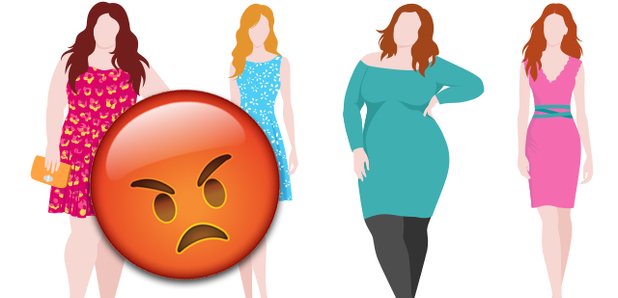 Many customers of the brand feel disappointed by the representation of plus size women in their latest campaign.
The well known clothing brand, Simply Be, has always been at the forefront of plus size fashion and women have loved them for it.
But recently, it seems like they're not representing the women that are so loyal to the brand very well in their advertising campaigns.
The brand was one of the first to cater for sizes 12-32 but now customers are calling them out for what seems like a step backwards in the plus size fashion and beauty industry.
Their latest campaign, #wearecurves, features size 14 model Iskra Lawrence and fans of the brand aren't impressed.
Plus size blogger, Stephanie Yeboah expressed her concern over the campaign on Twitter.
Mm. pic.twitter.com/xSX2DeZ4V7

— Stephanie Yeboah (@NerdAboutTown) March 11, 2017
It says a lot when I can't even relate to a plus size brand anymore because their models aren't plus size. pic.twitter.com/vD1wNxVLER

— Stephanie Yeboah (@NerdAboutTown) March 11, 2017
And many others joined in to express their thoughts too.
Have @SimplyBeUK made some kind of mistake? 'We are curves' although non of the models in the advert are big, just normal sized women?

— Bethhh (@bethanyycribbs) March 18, 2017
I really don't like how size 12 counts as plus size the new simply be advert is full of women who aren't even PLUS SIZE pic.twitter.com/TaQkOW2rsQ

— BECCA (@fashiontrain) March 11, 2017
It seems to some as though the plus size fashion industry is getting fixated on 'curvy' bodies and 'hourglass' figures rather than being inclusive of all body types.
Lets hope that they listen to the concerns from customers and better represent the corner of the fashion industry that in the past they've served so well next time round!