Plus Size Model Ashley Graham Gets Her Own Barbie Doll... And It's So Inspiring!
The body positive campaigner and super successful fashion model has had a Barbie doll created in her honour and it's AMAZING!
The classic Barbie Doll has long been accused of not representing real women, but manufacturer Mattel is on a mission to change all that.
The company has teamed up with beautiful plus size model Ashley Graham to create a Barbie doll that replicates her famous curves, and it's so inspiring!
What makes the doll so special is that it ACCURATELY reflects Ashley's fuller figures, with not a ridiculous thigh gap, twig arm or concave stomach in sight. It's a fantastic reminder at what women's bodies actually look like.

Ashley unveiled the doll at the 2016 Glamour Women of the Year LIVE Summit in Los Angeles, and it's safe to say she's thrilled with the result.
"We need to work together to redefine the global image of beauty and continue to push for a more inclusive world," Ashley said in a statement. "I'm thrilled Barbie has not only evolved their product, but also has continued to honor women who are pushing boundaries. It's an honor to be immortalized in plastic."
The doll is dressed in a miniaturised version of Ashley's own wardrobe - a bodycon dress, a cropped denim jacket and a pair of black boots.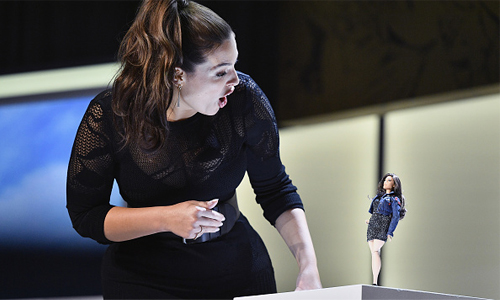 One thing that was really important to Ashley was the thighs on the doll, which she stipulated needed to be touching to prove that a 'thigh gap' isn't necessarily what young girls should be aiming for.
This isn't the first time that Mattel has unveiled a more realistic Barbie doll - the company launched a petite, tall and curvy body type Barbie in January of this year.
Ashley is a fierce advocate of body acceptance and she regularly posts inspiring quotes on her social media channels. Just take a look at this one...

What do you think of Ashley's Barbie doll?