Top Tips For Easy Breezy Summer Dressing...HINT It's All About Less Is More!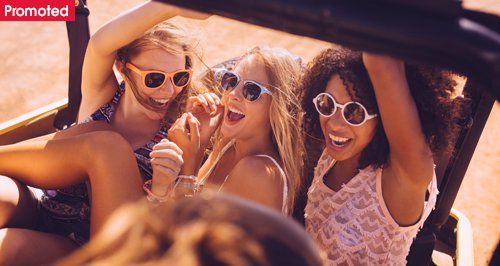 Want to look and feel confident this summer? Don't reach for your credit card until you've read our hot weather dressing tips...we think you'll thank us.

We've all been there, you open your wardrobe and find you've got loads of clothes but nothing to wear!
Finding the right outfit for hot (and inevitably sweaty) summer days is a bit of a mission, but there are plenty of ways to make your life easier.
Take a look at our top tips for summer dressing below and then apply them to your own wardrobe. If you find you're in need of some new clobber, take a look at this summer style guide from Lyst.com.
Think about fabrics
When it comes to dressing for sweltering weather, you're better looking at the type of fabric a piece is made from first. Natural fibres, like cotton, are much more breathable and better at soaking up sweat than synthetic polyester or rayon. Linen is a great choice for cool daytime strolls, but think twice before wearing linen to a sit-down occasion...it's prone to creasing!
Look out for lining
Sometimes lining is essential (we'd rather be a tad hot than flashing our knickers!), so look for dresses or skirts with natural fabric linings that won't stick to your legs like a blanket. If in doubt, opt for a cotton underskirt that you can wear with everything. The same goes for padded bras - there's nothing cooling about a three-inch thick belt of sponge round your chest!
Take off the last thing you put on
Necklaces, bracelets, rings, hats, belts...they may look great, but they will drive you mad when you've spent the day in the sun. Extra layers trap heat on the surface of your skin, making you feel even warmer. Take the last thing you put on off and reap the benefits later.
Think about your skin
That strapless dress might look incredible, but spare a thought for your poor skin before hitting the town. Very few Brits apply sunscreen before heading out for the day, which means lots of burnt noses and shoulders. Cover your shoulders with a soft, flowing top and wear a wide-brimmed hat to avoid those painful UV Rays.
Be kind to your feet
Your feet naturally swell in the hot weather, which is why so many of us end up with painful blisters. Fortunately, chunky sandals are bang on-trend this season, so you'll be comfortable and fashionable. Aim to wear shoes with open toes to ensure maximum breathability, but steer clear of flip flops - they can lead to foot pain if you wear them too much.
Ignore the 'no black clothing' rule
It is true that black materials absorb more heat, but it's not going to suddenly turn you into a walking radiator. What's important is the type of clothing you wear - a loose fitting black dress will feel much cooler than a skintight pair of white jeans and a vest top.
Layer don't tuck
It may seem counter-intuative, but layers of voluminous, flowing fabrics are going to keep you much cool than just a couple of bits tucked into each other. The less fabric you have touching your actual skin, the better. Even a full length maxi-dress will keep you cooler than a tight pair of denim shorts and a fitted top.
Get smart about accessories
That backpack may be practical, but it is definitely going to make you sweat. Stick to small over-the-shoulder bags or totes that don't stick to your skin in sensible fabrics (NOT leather). And don't forget to invest in some fantastic hair accessories to keep long hair off your shoulders!
What are your top tips for holiday dressing? Let us know in the comments box below...