This 18-Year-Old Recreates Taylor Swift's Outfits So Well That Even Taylor Thinks They're Hers!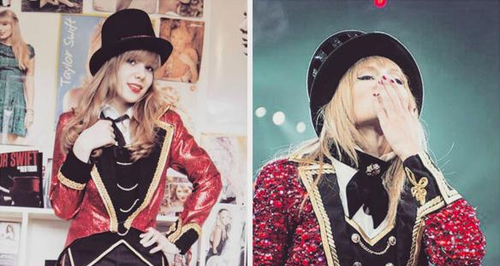 Lotte Lutjes from the Netherlands has well and truly earned her Swifty stripes.
The talented 18-year-old spends her spare time recreating - and making replica - some of Taylor Swift's most iconic outfits.
She first came up with the idea when her and some pals had tickets to see the Red tour and decided to dress up in a Taylor inspired costume.
Then her creative juices just kept flowing...
...and flowing...
She absolutely nailed Taylor's Grammys look:
And even gives us a sneak peek into what it takes to look like the 'Shake It Off' singer.
We'd even go as far as saying she looks a little like Taylor...
So much so that, because her creations are so good, even Taylor Swift got confused!
Lotte suffers from Charcot-Marie-Tooth disease which means that sometimes she has difficulty walking or standing for long periods of time.
Her sewing skills have helped her through some horrible times.
She told Seventeen: "I've felt really left out and useless at times, but this honestly felt like a whole new world! The costumes definitely make me feel more confident. Not because I look like Taylor in them — that's not my main goal! I just love making them and they make me feel fierce."
Keep doing what you do Lotte. It's awesome!