This is why you shouldn't wear ripped jeans on a sunny day
18 May 2018, 15:21 | Updated: 7 June 2018, 16:59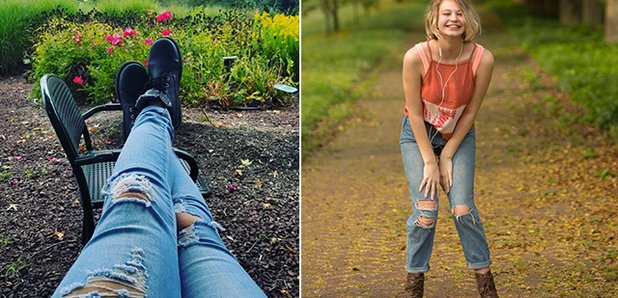 Let's just say that it's not the wisest choice of garment...
With the sun shining, it's tempting to whip out the ripped jeans to get a bit of air to the knees.
However, it's probably not the wisest fashion statement to make in warm temperatures as it can lead to some very questionable tan lines, as many of the general public have already discovered.
The dodgy sunburn can make you look like a zebra:
Don't wear ripped jeans in the sun guys pic.twitter.com/BftKEtICca

— shell (@sh3ll__) June 9, 2015
Or look like you've fallen knee-first into some red paint:
never wearing ripped jeans in the sun again pic.twitter.com/6T9BNl9wkd

— morgan (@ultjimint) June 10, 2016
If you've not managed to put your foot through the hole when trying to put your jeans on and still have all the little bits of thread in tact - then you could even achieve the 'barcode' look:
try ripped capris pic.twitter.com/3FPYRm7f7J

— ali (@aliapplemanxo) June 10, 2016
As we all know with sunburn, not only does it last for days, it can be pretty darn painful.
The Met Office has predicted that the next Bank Holiday weekend could be just as scortchio as the previous, with some parts of the country reaching around 30 degrees.
So, moral of the story? Cream up, and stick to shorts!
WATCH! The Queen and Attenborough discuss conkers: