Everybody's Crying At The Moment This Daughter Surprised Her Father After Family Loss
17 November 2017, 12:11 | Updated: 17 November 2017, 12:46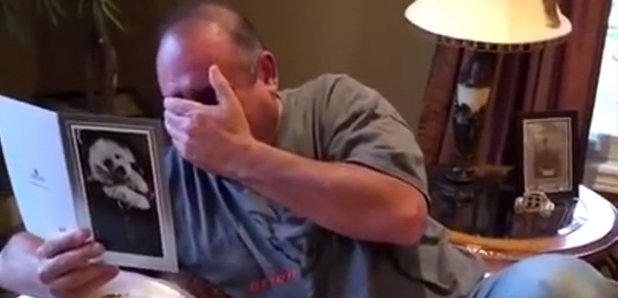 Tissues at the ready!
If you've ever had a pet, you'll know that the love you have for them is totally unconditional.
Sure, the dog's trodden mud through the house, and yeah, the cat has brought a 'present' in for us, but we adore them all the same! And after poor James experienced the heartbreak of losing two family dogs within three weeks of each other, his daughter decided to bring some happiness back into his life:
James had dogs Lucy and Nemo, but was left with an empty void after both his beloved pets passed away in close succession.
His loving daughter will probably be rewarded with the BEST birthday and Christmas presents for life, after she decided to try and ease his heartache with a gesture of a new puppy called Lumo.
And she was on hand to film the emotional introduction, which racked up a whole lotta love online.
After the video was posted, one user commented: "Lucy + Nemo = Lumo. Good way to keep their memories alive through this new dog!"
Oh golly. We're not crying - you are!
This reaffirms just how special the bond between a human and a doggo really is.
Aw!