Wave Goodbye To The Tweezers As Feather Brows Are Now A Thing
21 April 2017, 17:01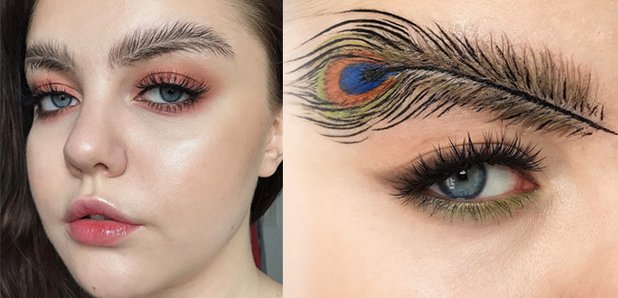 The beauty world never ceases to amaze us. We're not sure we can back this one though!
It was one thing getting our head around the fact that finely plucked brows aren't a thing any more and bushy brows are totally in. But feather brows? We're not so sure.
Beauty bloggers on Instagram have taken the eyebrow game to new levels, posting photos of themselves with feather-like styled facial hair.
If you're laughing at the new trend (like we are a little bit) then you'll understand that it started off as a bit of a joke after Stella Sironen, a Finnish makeup artist, jokingly shared the image to Instagram declaring it the new must have.
But instead of getting laughs, the trend spread like wildfire.
Now, Instagrammers are sharing their own version and whilst some people hate it, others love it!
The look is created splitting the hairs down the centre, splaying the hairs to mimic a feathear, and seal the look using Vaseline.
After the trend picked up a bit of attention, Stella was quick to point out that she didn't do it seriously.
She wrote: "Ok so obviously this has gotten out of hand and it's hilarious and amazing but i wanted to clarify some stuff:
"1. i joked about starting a trend in the caption of my first pic not about the actual make up
"2. drag queens have used glue on their brows since forever so please don't credit me for that lol
"3. i know that brows are a sacred part of the face but consider this: there is lip art and eye art and tons of different forms of creative makeup, why is experimenting with brows so strange?"
Yes or no? Will you be trying out the avian themed eyebrows?