Festive Cocktails To Kickstart Christmas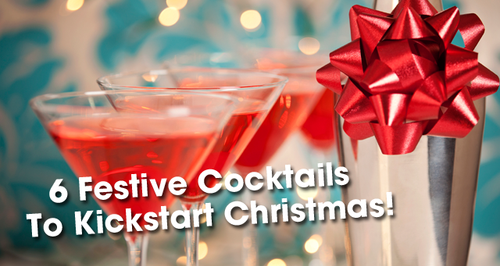 There's nothing better than a good ol' cocktail to warm your cockles this Christmas. From dark and spicy rums to fruity aperitifs with a fizz, drink and be merry with these tasty recipes.
1. Chocolate Orange Cocktail
Picture: BBC Good Food
If you fancy a boozy alternative to a Terry's chocolate orange this Christmas, then this wickedly boozy cocktail is for you.
Ingredients:
100g golden caster | sugar | zest of 1 orange or clementine | grated dark chocolate, to decorate | 100ml vodka | 100ml crème de cacao | 60ml orange syrup | 40ml orange juice
Firstly, make an orange syrup by combining 100ml water with the golden caster sugar and the orange zest in a pan and bring to the boil. After you've cooled and strained the syrup, add it to a cocktail shaker with vodka, crème de cacao orange juice and ice.
Chill 4 coupé glasses, then dampen the rims with a water and dip in the grated dark chocolate. Pour the drink into the decorated glasses and serve!
2. Pear and Cinnamon Fizz
Picture: Cointreau
Add the magical scent of Christmas with this light and refreshing alternative to prosecco by adding a cinnamon stick to your Classic Cointreau Fizz cocktail. The fruity drink brings together Cointreau's sweet orange flavours and and the sharpness of lime to create a seasonal serve.
Ingredients:
40 ml Cointreau | 10 ml fresh lime juice | 50 ml pear juice | 40 ml sparkling water
Method:
Fill a glass with ice, add Cointreau, fresh lime juice and autumn pear juice.
Top off with sparkling water and stir briefly.
3. Mince Pie Martini
Picture: BBC Good Food
Ingredients:
100g golden caster sugar | 50g mincemeat | 4 tbsp caster sugar | 4 tsp mixed spice | 4 tsp mincemeat | 100ml gin | 100ml sweet red vermouth | 20ml dark rum
Method:
To make a mincemeat syrup, put 100ml water, the golden caster sugar and mincemeat in a pan and bring to the boil. Cool and strain the mixture through muslin into a sieve.
Muddle the mincemeat syrup in a cocktail shaker, then add the gin, sweet red vermouth, dark rum, 80ml mincemeat syrup and ice.
Roll caster sugar and mixed spice onto the rim of a martini glass to decorate, pour and serve.
4. Heavy Punch
Turn up the heat this Christmas with Heavy Punch made with generous servings of Sailor Jerry spiced rum! Or if you're the generous type, pour into a jug, slap a bow on it and share with friends.
Ingredients:
1 ½ parts Sailor Jerry Spiced | 1 part pineapple juice | ½ part port • ½ part simple syrup | ½ part fresh lime juice | 4 dashes of bitters
Method:
Combine ingredients, shake and strain over crushed ice. Garnish with fresh grated nutmeg to for a spicy flavour to warm you up!
5. Flirtini
If you're feeling a bit floozy and fancy a kiss under the mistletoe, we highly recommend the Flirtini. This boozed up version of a French Martini is the brainchild of Nigella Lawson, and who better to take a lesson in flirting from than the sultry chef herself?
Ingredients:
1x75cl bottle dry fizzy white wine | chilled 125ml vodka | chilled 500ml pineapple juice | chilled Spritz of lime
Method:
Mix all ingredients together in a jug and pour into wine glasses or champagne flutes/saucers.
6. Cavalli Sour
Nothing says Christmas more than a bit of fizz, so why not try this fashionable take on prosecco? As Disaronno teams up with Roberto Cavalli for a limited edition bottle, they've served up a sour cocktail that will go down treat if you're trying to impress this Christmas.
Ingredients:
1 ½ oz Disaronno | 1 oz Lemon Juice | ½ oz Sugar syrup |1 ½ oz Prosecco |10 dashes angostura bitters
Method:
Mix Disaronno with a squeeze of lemon juice and sugar syrup before topping it up wit prosecco and a few dashes of angostura bitters.
7. Cranberry Par-tea
Put a festive twist on your ice tea with this boozy drink! If you're not one for spirits and fancy yourself as more of a wine drinker, then you may want to try Echo Falls Fruit Fusion. This range of wine is infused with different fruits and provides the perfect base for Christmassy drinks.
Ingredients:
70ml Orange & Cranberry Echo Falls Fruit Fusion | 25ml lemon juice | 15ml sugar syrup | Ice cubes | Cold earl grey tea | Garnish with 3 cranberries on a cocktail stick
Method:
Mix 70ml Orange & Cranberry Echo Falls Fruit Fusion with 25ml lemon juice and 15ml sugar syrup. Stir in a highball glass with ice cubes and top up with cold earl grey tea. Garnish with 3 cranberries on a cocktail stick.