The £5 Note Has Had A HUGE Grammatical Error This Whole Time!
2 May 2017, 13:12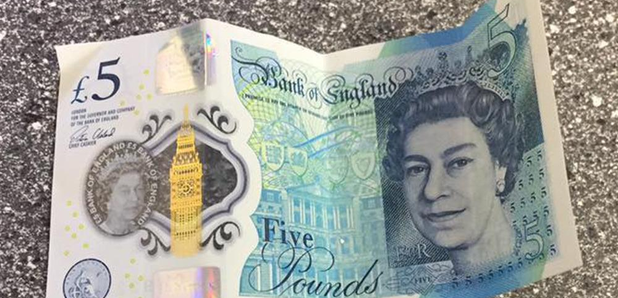 The five pound notes were rolled out last September and a HUGE mistake has been staring us in the face this whole time.
The Grammar Police have a bone to pick with the new five pound note, as it's claimed there has been a huge printing error.
Apparently, both writers and Churchill fans are grinding their teeth at the embarrassing slip-up which sees the wartime Prime Minister's famous words printed in error.
Eagle-eyed fans notice that his phrase: "I have nothing to offer but blood, toil, tears and sweat" has been printed on the note WITHOUT any quotation marks!
On the original design for the note, it had speech marks to show that it was the former prime minister and wartime leader who said these words, but by the time it reached banks, they were gone – and there was no full stop either!
Grammar police are all over the new five pound note, that doesn't have quotation marks!https://t.co/UpZ9GaUCfn pic.twitter.com/whAbsE3L4c

— Brilliant Social (@brilliantsocial) May 2, 2017
Hilariously, it now looks as if the banknote itself is telling us it can only offer blood and toil – rather than the sum of five of Her Majesty's pounds.
Dr Tara Stubbs, an English lecturer at the University of Oxford, said she found the omission of the appropriate grammar "irritating."
She said: "It is a bit peculiar because it looks like it is the Five Pounds that's speaking and not Winston Churchill.
"There should be quotation marks and full stop, definitely. It also doesn't have the Oxford comma after 'tears'. To take that stuff out is condescending and I find efforts to dumb down like this just irritating."
However, others have said it's not a big deal and the context of the note would make things obvious enough, and that a full stop was only needed in connecting prose.