We rated supermarket hot cross buns from best...to worst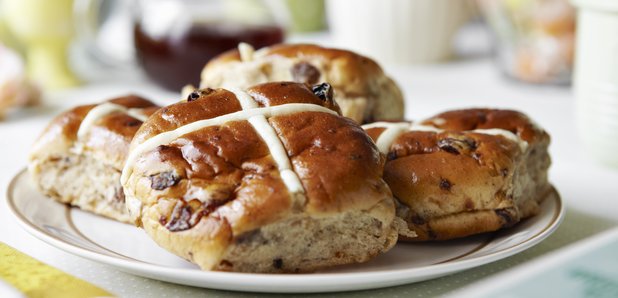 Alongside the copious amounts of chocolate, hot cross buns are an Easter staple so make sure you're buying the right ones!
Us folk at Heart are so generous that we thought we would take one for the team and try all of this years supermarket hot cross buns to let you know what's the best.
We scoured the high street and tried one of the baked Easter treats from each of the biggest food retailers in the UK.
We made our decisions based on the taste, texture, appearance and of course, value to keep you informed of where best to spend your money when getting the food shop done for the long weekend.
Here are the results from lowest scoring to highest...
Tesco Mini Toffee & Banana Hot Cross Buns - £1

These are a cute idea for the kids as they come in a miniature size. They are also raisin free so if you're someone that hates those little guys popping up in your food, you might like these.
Scoring quite averagely on value, these failed to impress our judges in taste, appearance and texture.
Shop them online here.
Co-op Irresistible Richly Fruited Hot Cross Buns - £1.25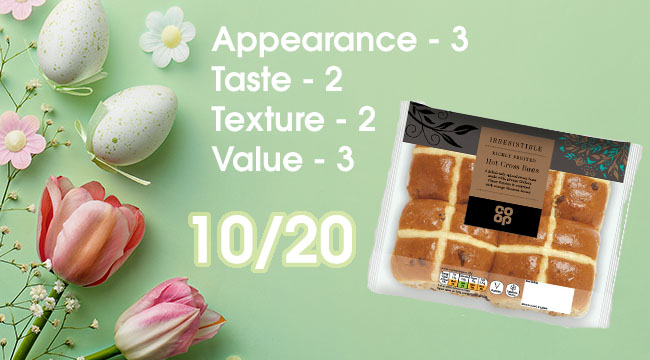 Co-op haven't messed around with trying new flavour combos here and have instead stuck to a classic. These come in a pack of four and scored pretty averagely in appearance and value but lost points where it counts, flavour.
Shop them online here.
Sainsbury's Taste The Difference Fruity Hot Cross Buns - £1.40

These are of the pricier options in the bunch but this is no surprise considering they are from Sainsbury's own premium Taste The Difference range.
They took average scores in all categories except value, where our judges saw them as perhaps a little overpriced.
Shop them online here.
Marks & Spencer Sweet Orange Marmalade Hot Cross Buns - £1.79

M & S have mixed things up a bit in the flavour stakes with these orangey creations. Raisin haters, beware, you'll still find them in these but with a pop of zesty citrus too.
Our judges however weren't too impressed with the price tag.
Shop them online here.
ASDA Extra Special All Butter Fudge Hot Cross Buns - £1.20

If you have a sweet tooth then these fudgey delights from ASDA will be right up your street. These managed to conjure up a mid level score amongst our judges in all areas except appearance.
Shop them online here.
Waitrose Berry and Cherry Hot Cross Buns - £1.69

These fruity buns from Waitrose offer a zingy alternative to the standard fare. At the pricier end of the scale though you might want to be a big fan of cherry which packs a punch in each bite of these treats.
Shop them online here.
Lidl's Cinnamon and Apple Hot Cross Buns - 79p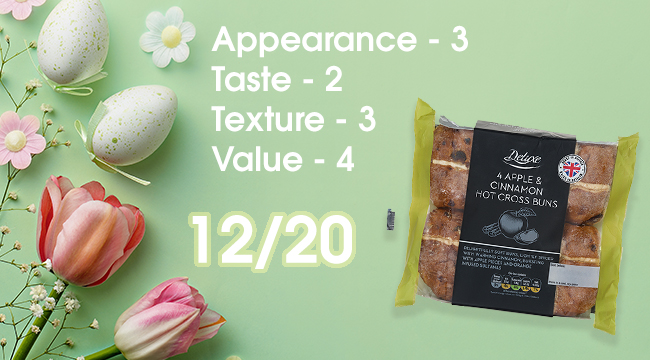 Lidl's offering won over our judges with it's incredible price tag but let them down in the taste stakes.
But in terms of great value they really do rule the roost.
Shop them online here.
Morisson's 4 Extra Fruity Hot Cross Buns - £1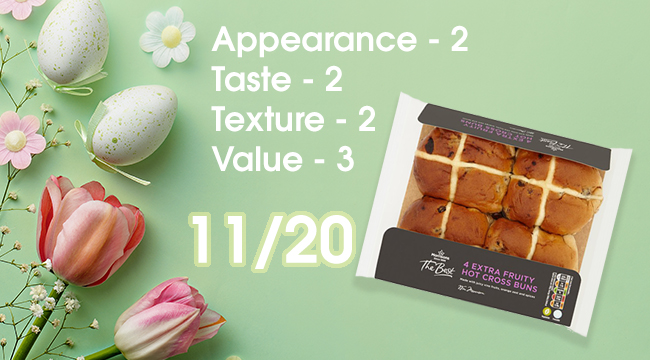 This is also a great value option from Morisson's working out at a miniature 25p per bun.
They didn't score amazingly well, but didn't score badly either so we would say these are a solid pack of hot cross buns with a great value price tag.
Shop them online here.
Iceland 4 Luxury Hot Cross Buns - £1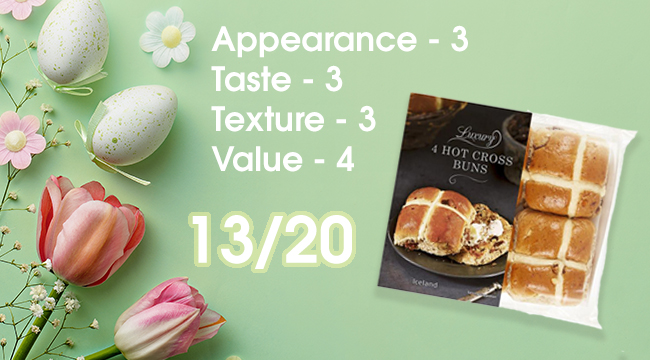 Iceland's luxury offering ranked well everywhere, and particularly won our judges over in the value stakes.
They are priced at £1 for a pack of four and will definitely whet your hot cross bun appetite this Easter.
Shop them online here.
And the winner is.....
Aldi Specially Selected Belgian Chocolate & Toffee Fudge Hot Cross Buns - 99p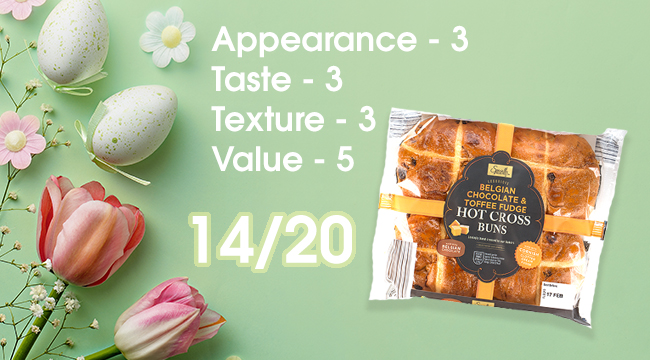 It's hard to tell whether it was the price or the chocolatey contents of these hot cross buns that won our judges over but either way, they're the firm winner of our taste test.
With top marks for value we want to buy two packs of these!
Shop them online here.