Woman's genius hack for making an full English in a slow cooker
19 September 2018, 12:28 | Updated: 19 September 2018, 12:32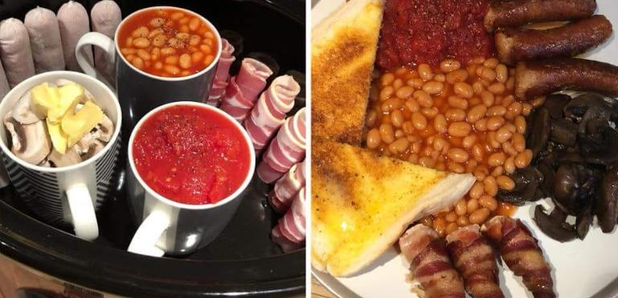 It may sound crazy but it seems to work a treat - and there's hardly any washing up!
Ever had a dream that breakfast magically cooked itself overnight?
Well dream no more because one bright spark has come up with a way for you to do exactly that.
Rose Bowler shared a photo to Facebook taken from a slow cooker group she's a member of, showing people how to make a full English using the popular kitchen device.
The photo was accompanied by the caption: "What an amazing idea someone has shared in the slow cooker group. Make sure the meat is leant against the edge for it to brown. I am definately[sic] going to try this."
Amazingly, the photo has gone viral with over 26,000 shares and an equal number of comments, which continue to grow each day.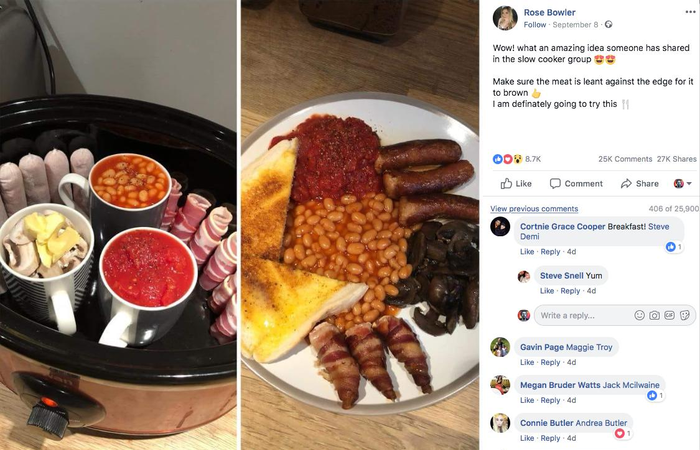 Rose Bowler posted this before and after photo demonstrating how a full English can be made in a slow cooker
Of course the toast will have to be made manually in the morning, but the rest of the ingredients that make up the traditional breakfast meal can be placed in a slow cooker and left overnight.
In fact, as Rose mentions in her caption, some of the ingredients need to be placed a certain way to come up crispy.
The sausages and bacon are placed against the side of the slow cooker's interior so that they get nice and crisp - the bacon slices have been rolled up.
Meanwhile the other bits and pieces also need to be prepared in a particular manner.
The beans and chopped tomatoes are placed in cups, with a bit of seasoning added to the tomatoes.
Meanwhile the mushrooms are also separated, with a knob of butter placed on top.
Keeping each of the different parts of the full English separate means they won't mix and end up in a complete mush.
It's not clear who originally posted the suggestion but judging the response, it's bound to have inspired countless people across the UK and the rest of the world to give it a try.