Jamie Oliver accused of 'cultural appropriation' over new jerk rice packets
20 August 2018, 10:46 | Updated: 20 August 2018, 11:20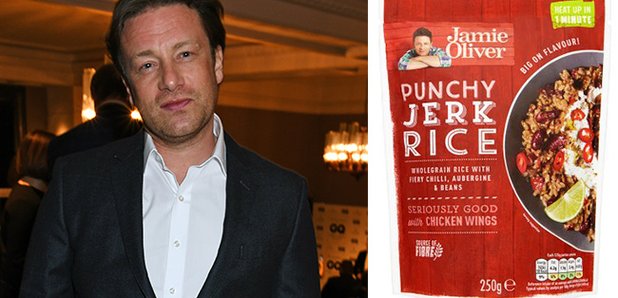 The telly chef's new easy rice doesn't include any of the main jerk ingredients, claim critics.
Jamie Oliver has been accused of 'cultural appropriation' for releasing packets of 'punchy jerk rice'.
The controversy around Jamie's new easy rice option centre around the facts that jerk rice simply doesn't exist in Jamaica.
Furthermore, the £2.30 microwavable rice doesn't include allspice or Scotch bonnet peppers in the ingredients, which are two of the four basic elements of jerk spice.
The Essex-born telly chef, 43, came under fire over the weekend when Brent MP Dawn Butler called Jamie out for using traditional Jamaican flavours to "sell products".
She tweeted: "I'm just wondering do you know what #Jamaican #jerk actually is? It's not just a word you put before stuff to sell products. @levirootsmusic should do a masterclass. Your jerk Rice is not ok. This appropriation from Jamaica needs to stop."
The debate continued this morning when Levi Roots and Rustie Lee appeared on Good Morning Britain to further discuss the implications of Jamie's new recipe.
Levi Roots, creator of the Reggae Reggae jerk sauce, explained that he had actually taught Jamie how to cook "the real deal" jerk and felt obliged to speak in the debate after being called out by the Labour MP.
He said that he believed the row stemmed from his team making a mistake, rather than him.
However, Rustie Lee wasn't having it.
She fumed: "At the end of the day, I've tasted it and it tastes like Caribbean rice and beans with flavours in it.
"The jerk part of it is barbecue and you can't barbecue rice.
"Jerk chicken…goes onto meat, it doesn't go onto rice.
"Jerk…originated from Jamaica and they would be offended by this.
"It's an insult because jerk is from the Caribbean and as much as I love Jamie, the point is it's getting onto a bandwagon to say its Caribbean, it's taken away from us."
Levi interjected: "Jerk is either a method of cooking, or the marinade. If it doesn't have these four things in it then you can't refer it to jerk.
"You cannot call it jerk if it doesn't have allspice."