This Brand Of Pesto Has More Salt In It Than A McDonald's Hamburger
4 October 2017, 16:00 | Updated: 8 June 2018, 15:45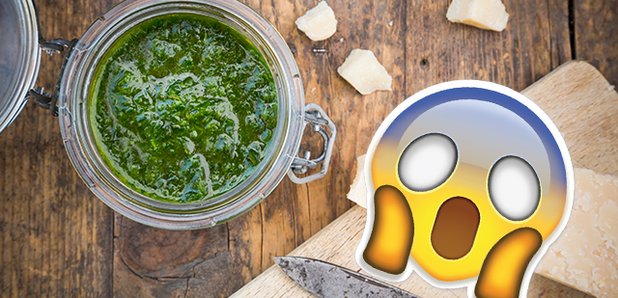 The kitchen cupboard staple is way worse for us than we had imagined.
When you're looking to make a quick and easy dinner pesto pasta is a crowd favourite.
It has all the signs of being a healthy(ish) meal - it's made from herbs and pine nuts, it surely has less salt in it than a jar of tomato sauce and it's green!
But despite mediterranean diets tending to be more healthy than our own, buying pesto buy the jar is incredibly unhealthy and the Consensus Action On Salt and Health (Cash) have revealed the main offenders.
Popular Italian food manufacturer Sacla is one of the UK's most popular Pesto options but the recent investigation has revealed that their alia Organic Vegetarian Pesto No 5 Basil and Italia Pesto No 1 Classic Basil each contain more salt than a McDonald's hamburger.
So you needn't have bothered boiling the kettle for your pasta this whole time - you should have just popped to Maccys for a burger!
They both contain 1.5g of salt per 47.5g serving which was an increase in salt levels since the survey was last carried out in 2009.
But Sacla weren't the only culprits with some supermarket own brands including Sainsbury's and Tesco's also having unhealthy levels of salt in their own brand pesto sauces.
Assistant nutritionist Sarah Alderton speaking on behalf of Cash said:
"Pesto is an everyday product eaten by adults and children alike, but people might not realise just how salty it can be.
"None of the products we surveyed could be described as 'healthy', so consider having pesto in smaller portions, less frequently or try other pasta sauces lower in salt and fat instead."
The study has resulted on Cash calling on Public Health England to have tougher crackdowns on the food industry and what they put into their products.
To make sure you avoid unnecessary levels of salt in your pesto, follow the recipe at home to make your own: